It's Mine! by Emma Yarlett – Book Review
It's Mine! by Emma Yarlett – Book Review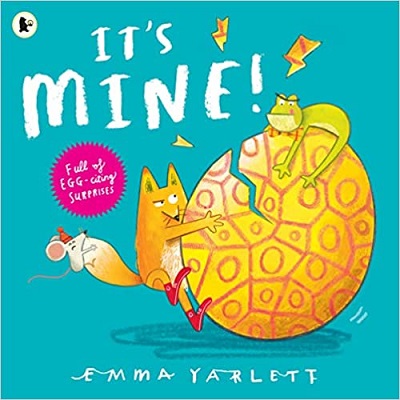 It's Mine!
Author – Emma Yarlett
Publisher – Walker Books
Release Date – 3rd March 2022
Pages – 32
ISBN 13 – 978-1529504231
Format – Paperback, Hardcover
Star Rating – 5
I received a free copy of this book.
This post contains affiliate links.

Synopsis
A hilariously funny, read-aloud story with cut-through reveals, from an internationally celebrated author-illustrator.
Once there was a mysterious thing. Nobody knew how it got there, it just was. "It's mine, all MINE!" say Mouse, Frog, Fox and Bear. But is it a piece of fruit, a wheel, a ball, a chair or something else altogether? And who will get to keep it in the end?
It's Mine is an amusing tale featuring Mouse, Frog, Fox, Bear, and an egg. Whilst out walking Mouse sees a large egg and declares that it must be fruit and that it is his, and so he takes it home. That is until Frog sees it and decides he needs it as it would make the perfect wheel.
Next comes along Fox and then Bear all having different reasons for wanting the egg and all declaring that it is theirs. That is until something happens to it, then none of them want it!
The story is a lot of fun and quite humorous. I can see little children giggling away at the animals, plus the cut our sections give the reader an added extra to enjoy.
With adorable, bright, colourful illustrations throughout and a golly good plot, this is a fantastic book that I can see being a great source of entertainment for young readers.
---
Purchase Online:
Emma Yarlett

Emma Yarlett is an award-winning author, illustrator and typographer.
Emma's bestselling book series Nibbles has sold over half a million books across five continents, won numerous awards and accolades and has nibbled it's way onto the bookshelves and imaginations of children across the world. Emma's self-penned picture books Orion and the Dark, Sidney Stella and the Moon and Poppy Pickle have also achieved global success, won numerous awards and been adapted into theatrical plays and other media.
Emma studied illustration at Falmouth University and graduated with first class honours in 2011. She began work on her first self-penned picture book Sidney, Stella and the Moon whilst still studying at university.
Emma now lives in Falmouth, Cornwall with her husband Alex.
Author Links:
---
The above links are affiliate links. I receive a very small percentage from each item you purchase via these links, which is at no extra cost to you. If you are thinking about purchasing the book, please think about using one of the links. All money received goes back into the blog and helps to keep it running. Thank you.