Dogs Who Work by Valeria Aloise – Book Review
Dogs Who Work by Valeria Aloise – Book Review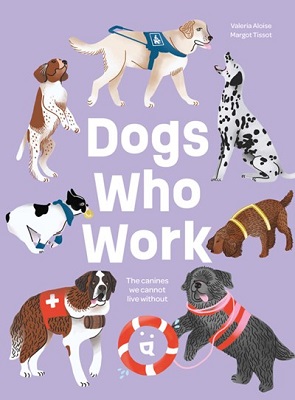 Dogs Who Work
The Canines We Cannot Live Without
Author – Valeria Aloise
Illustrator – Margot Tissot
Publisher – Helvetiq
Release Date – 10th January 2023
Pages – 104
ISBN 13 – 978-3907293713
Format – Hardcover
Star Rating – 4.5
I received a free copy of this book.
This post contains affiliate links.

Synopsis
All the real and important jobs dogs do, in one lavishly-illustrated book of more than 50 breeds.
Dogs save lives and protect property. They search for treasures and sniff out criminals. They guide people who cannot see and comfort those who are sick. Dogs Who Work is about all the important jobs that real dogs do every day. Along the way, you'll meet the breeds that excel in certain skills, from guarding priceless paintings or assisting police or gathering tennis balls! You'll even meet the mythological dogs who could fly or bring back the dead, and the famous dog who was elected mayor. This lavishly-illustrated book is a great introduction to all the dogs we love–and cannot live without.
Dogs Who Work: The Canines We Cannot Live Without is a children's educational book all about as you might have guessed, dogs. The book is large, quite heavy, and contains 104 pages split into fourteen chapters with a list of dog breeds at the back.
The book begins by explaining how dogs can work hand-in-paw with humans to get certain jobs done. We then move on to the history of dogs working alongside humans and the most popular breeds that do.
The book looks at the different jobs that the dogs have from those children will probably have heard of, Police Dogs, Sheep Dogs, etc to some that they won't have heard of before such as Cancer Detecting Dogs and Life Guard Dogs.
Each double page explains the role of the dog, the breeds that do that job, the qualities needed, their mission, and a 'Did you know?' section. On the double page is also a ful- page illustration showing the dog in its role.
Dogs Who Work: The Canines We Cannot Live Without is certainly a book for those children who love dogs or for those wanting to learn more about them. It is filled to the brim with fascinating information and facts. It even has a section on famous dogs, although I hadn't heard of all of them so I learned something too. My tiny disappointment is that I would have loved to have some real-life pictures in the book not just illustrations, but this is a tiny flaw and many may not agree with me.
Overall, this is a book that educates in a fun way. Children will learn so much about dogs and hopefully, this book will have them appreciating them more than ever.
---
Purchase Online:
Valeria Aloise
Valeria Aloise is an institutional communication specialist that lives in Lausanne, Switzerland. She shares her home with French Bulldog Arnold, who she named after Arnold Schwarzenegger because of his strong stature. For her entire life she's loved dogs and wishes all of us would return the unconditional love dogs show us!
Author Links:
---
The above links are affiliate links. I receive a very small percentage from each item you purchase via these links, which is at no extra cost to you. If you are thinking about purchasing the book, please think about using one of the links. All money received goes back into the blog and helps to keep it running. Thank you.