Cindergorilla by Gareth P. Jones – Book Review
Cindergorilla by Gareth P. Jones – Book Review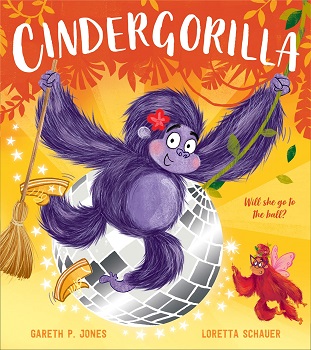 Cindergorilla
Author – Gareth P. Jones
Illustrator – Loretta Schauer
Publisher – Farshore
Pages – 32
Released – 16th September 2021
ISBN-13 – 978-1405298841
Format – paperback
Rating – 5 Stars
I received a free copy of this book.
This post contains affiliate links.


Synopsis
Love fairy tales? Love animals? Love laugh-out-loud storytelling? Look no further!
Cindergorilla loves to dance. She longs to go to the Saturday Night Disco Ball, where the other gorillas strut their stuff, but her horrid aunt and cousins, Gertrude and Grace always say no. Instead Cindergorilla must stay home and do the housework!
But all that changes when Cinder gets a visit from her Hairy Godmother . . .
The second hilarious title in a fun-filled fairytale series with empowering messages for young readers!
Cindergorilla had to clean up the mess her aunt and cousins made every day. She didn't mind though as she got to dance whilst she cleaned.
One day she heard about a disco which Travis, Prince of the Disco was holding to find himself a new disco partner. Cindergorilla wasn't that interested in being Travis's partner but she did want to go to the disco so that she could show off her dance moves.
But with all the mess made by her aunt and cousins that she has to clean up, will she get to attend?
As you will have guessed, Cindergorilla is a fun children's picture book that is a new adaptation of Cinderella, this time featuring a wonderful gorilla called Cinder.
The story is one that most children will have heard over and over and yet never like this. It really is an amusing take on the tale, and also shows children that they are not there to serve others and that they don't need anyone else to have a good time.
From cover to cover the book is illustrated with bright, colourful, full-page, amazing illustrations that capture the eye and bring the story to life.
This is a book I can see children enjoying immensely. It is touching and hilarious. Another fabulous book in this new fairytale series from author Gareth P. Jones.
Purchase Online From:
---
What did you think of 'Cindergorilla'? Share your thoughts in the comment section below!
---
The above links are affiliate links. I receive a very small percentage from each item you purchase via these links, which is at no extra cost to you. If you are thinking about purchasing the book, please think about using one of the links. All money received goes back into the blog and helps to keep it running. Thank you.
Like us on Facebook – Tweet us on Twitter – Pin us on Pinterest – Join us on Instagram