A Little Bit Worried by Ciara Gavin – Book Review
A Little Bit Worried by Ciara Gavin – Book Review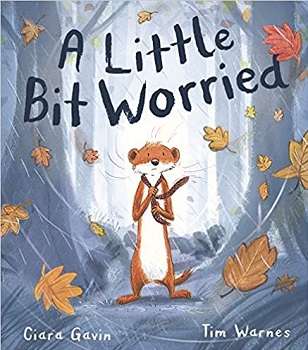 A Little Bit Worried by Ciara Gavin
Author – Ciara Gavin
Illustrator – Tim Warnes
Publisher – Little Tiger Press
Pages – 32
Released – 4th February 2021
ISBN-13 – 978-1788815703
Format – paperback, hardcover
Rating – 5 Stars
I received a free copy of this book.
This post contains affiliate links.


Synopsis
When Weasel is caught in a big, angry storm, he builds a fortress to hide in. But then he meets Mole, who loves to play in the wind and splash in the rain. Can Weasel learn to overcome his fears and find joy, whatever the weather?
A perfect story for worriers big and small.
A Little Bit Worried is the tale of Weasel who after finding himself in some bad weather including the rain, wind, and hailstone decides to build himself a fortress. Once inside he still doesn't feel very safe from the weather, that is until a Mole appears.
At first, Mole thinks that Weasel has built the fortress to play in, but soon realises that Weasel is scared. He tells Weasel all about his views on the weather and some of the fun things you can do, like build snowmen when the snow arrives, or splashing about in the puddles when the rain comes. He also teaches him what it is to be a friend and that he is there to help Weasel with his worries and fears.
The story is very sweet and I love how much Mole really cares and his positive outlook on the weather. I don't particularly like the rain but I agree hot soup tastes so much better whilst you are drying off and getting warm.
The full-page illustrations are beautiful and they really emphasis how worried Weasel is and how helpful Mole is trying to be. I did laugh that Weasel built his fortress out of bricks and then suddenly it has a sofa, a rug, a cupboard, and food within it. I like that kind of imagination and I'm sure children will do too.
The text is dark black, a good size font making it easy to read. I liked that exclamations were written in a bigger font. The amount of writing is just right for this size book and it is a good amount for those children learning to read or for a parent/guardian/etc to read as a bedtime story.
Hopefully, this book will help children look at situations differently that they may be worried about.
Purchase Online From:
---
What did you think of 'A Little Bit Worried'? Share your thoughts in the comment section below!
---
The above links are affiliate links. I receive a very small percentage from each item you purchase via these link, which is at no extra cost to you. If you are thinking about purchasing the book, please think about using one of the links. All money received goes back into the blog and helps to keep it running. Thank you.
Like us on Facebook – Tweet us on Twitter – Pin us on Pinterest