Conker the Chameleon by Hannah Peckham – Book Review
Conker the Chameleon by Hannah Peckham – Book Review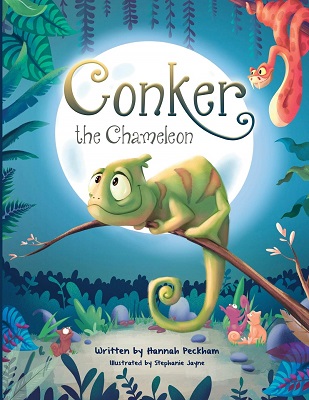 Conker the Chameleon
Author – Hannah Peckham
Illustrator – Stephanie Jayne
Publisher – Blue Falcon Publishing
Pages – 32
Released – 2nd February 2021
ISBN-13 – 978-1912765294
Format – paperback
Rating – 5 Stars
I received a free copy of this book.
This post contains affiliate links.


Synopsis
Can you imagine what it would be like if you could tell how someone was feeling just by looking at them?
But sometimes, looks can be deceiving…
In a world where chameleons have lost the words to explain how they are feeling, they have all got in a bit of a muddle! Poor old Conker, who can't change his colour like the others, is feeling very fed up.
Then he discovers that what makes him different also makes him special.
This heart-warming story by Hannah Peckham will delight and engage young children while encouraging them to talk openly about their feelings.
Conker the Chameleon is the same as his siblings in every way except that he can't change colour like they can. At first, he is upset that he can't change but he soon learns that as he can't show his emotions by changing colour then talking about them is actually the way to go and that staying green has its advantages.
Conker is a wise little Chameleon who used what he initially thought was a disadvantage to his advantage and in doing so taught his siblings to talk about their emotions rather than just changing colour to let the others know how they felt. He showed then that it was good to share your emotions and that by sharing you can also start to feel a little better.
The story is lovely and hopefully will make children learn not to bottle up their feelings but to share them with someone they trust. The full-page illustrations are absolutely beautiful and bring the story to life. The colours make you feel cheery and the Chameleon's look so adorable, especially Conker.
The amount of text on each page is about right for the age the book is aimed at. The book would be perfect for new readers or a bedtime story. It would also make the ideal book to give to a child that is struggling with their emotions to help them to understand they are not alone and that they should talk to someone.
Conker the Chameleon is a wonderful adventure story that not only contains a fun, imaginative story but is educational and helpful too.
Purchase Online From:
---
What did you think of 'Conker the Chameleon'? Share your thoughts in the comment section below!
---
The above links are affiliate links. I receive a very small percentage from each item you purchase via these link, which is at no extra cost to you. If you are thinking about purchasing the book, please think about using one of the links. All money received goes back into the blog and helps to keep it running. Thank you.
Like us on Facebook – Tweet us on Twitter – Pin us on Pinterest