Eleven Days in June by R.P. Gibson Colley – Book Review
Eleven Days in June by R.P. Gibson Colley – Book Review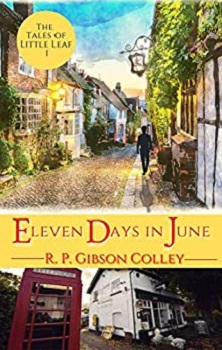 Eleven Days in June
Author – R.P. Gibson Colley
Pages – 148
Released – 15th February 2021
Format – ebook
Rating – 3.5 Stars
I received a free copy of this book.
This post contains affiliate links.


Synopsis
Dan is happy with his life. He just hasn't started living it yet.
Dan Whitaker is 20, lives in a sleepy village in Devon and works in a small DIY shop. He likes numbers and hero worships Lord Nelson. But he finds ordinary people difficult to understand and he's certainly never had a girlfriend. His mother mocks him, and he misses his father and he pines for Ollie, his only childhood friend who truly understood him.
But, despite it all, Dan thinks he's happy enough. Until one June day, the beautiful and mysterious Libby walks into his shop – and into his life.
Libby's sudden appearance turns Dan's ordered existence upside down. But Dan soon realises that Libby isn't who she seems. Who exactly is she? What is she hiding, and, more importantly, who's that threatening man always looking for her?
In trying to help Libby, Dan comes to realise what's missing in his own life, and, in turn, appreciates what's really important…
Part One of The Tales of Little Leaf.
Eleven Days in June is exactly as the title states. It features eleven days in June of Dan's life. Dan is twenty-years-old, lives in Little Leaf, has some form of learning difficulty, and works in a hardware shop, around the corner from the home he shares with his mother.
His relationship with his mother is quite a difficult one. She clearly loves him but doesn't understand him and can often be sarcastic towards him.
When a new woman arrives in the town of Little Leaf, Dan takes a shine to her but Libby seems nice enough on the outside but there is something mysterious about her and about the man who has arrived in the village looking for her.
The story is quite short at just 148 pages and Dan is a nice enough young man. He's very knowledgeable but isn't very streetwise. He doesn't understand people fully, nor does he like change, especially when his mother announces that she has met a man and wants to get to know him better. Dan's first thoughts are that he must be after his mother's money, even though he has never met him.
The book is well written and it flows fine. The story is plausible and the characters believable and mainly likeable, though I couldn't warm to Libby. I was fond of Dan and how he suddenly became smitten with the new girl in town and would do anything for her, even just after a few days of knowing her, including risking his job.
However, the plot was a little mundane. Not a great deal happened. It had no twists, turns, big reveals, there were the odd exciting moments but they passed quickly. It was a straightforward plot of life in Little Leaf and how in just eleven days Dan's life changed via a new woman, a man with a violent past, and a mother with a new boyfriend. I also didn't understand the need for all the flashbacks to Dan's time at school and his best-friend Ollie, yes I know he missed him but I'm not convinced that many flashbacks were needed to get that message across.
Overall, it is an easy, straightforward read that took just a couple of hours to get through and was pleasant enough to keep me reading to the end.
Purchase Online From:
---
What did you think of 'Eleven Days in June'? Share your thoughts in the comment section below!
---
The above links are affiliate links. I receive a very small percentage from each item you purchase via these link, which is at no extra cost to you. If you are thinking about purchasing the book, please think about using one of the links. All money received goes back into the blog and helps to keep it running. Thank you.
Like us on Facebook – Tweet us on Twitter – Pin us on Pinterest