I Am Here to Kill You by Chris Westlake – Book Review
I Am Here to Kill You by Chris Westlake – Book Review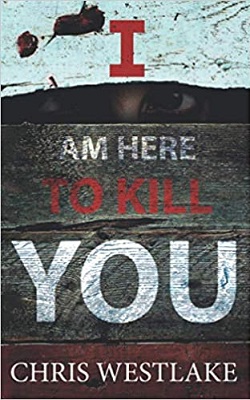 I Am Here to Kill You
Author – Chris Westlake
Pages – 344
Released – 31st December 2020
ISBN-13 – 979-8583580019
Format – ebook, paperback
Rating – 5 Stars
I received a free copy of this book.
This post contains affiliate links.


Synopsis
Charming. Charismatic. Beautiful. And deadly?
The members of a local support group in a sleepy welsh town are captivated by the new arrival, Sheena Strachan. Each member of the group has a reason for attending. Some hide dark, sinister secrets, and for others it is the highlight of their week.
But what are Sheena's motives for attending?
The group's leader, Rose, unexpectedly stops attending meetings. She goes into hiding, and quickly becomes an outcast. And then she is arrested for her estranged husband's murder.
Did Sheena really have no involvement in his killing?
With Sheena at the helm, the group goes from strength to strength, both in numbers and commitment. But their behaviour is changing. No story is to leave the room. They trust nobody. Men are the enemy. The residents of the previously peaceful town start turning against each other.
Was this Sheena's plan all along?
One mystery, however, stands out more than all the others.
Who is here to kill who…?
I Am Here To Kill You is a very well-crafted and compelling psychological thriller that I polished off in a few days. My great enjoyment of this book was probably enhanced by a measure of ignorance on my part. I will explain.
Every so often Whispering Stories send me a list of titles and I suggest which books I would like to read. They download a batch to my Kindle and it may be a few weeks before I read them. When I get to a particular book I tend to just read it and only afterwards will I check the details.
Consequently, I read I Am Here To Kill You with an open mind and with no idea of what was to come. I also failed to recognise Chris Westlake's name for which I must apologise, having given 30 Days in June a four star review just twelve months ago. Indeed, I even wondered if Chris was female, so empathic was the writing from the viewpoint of the female characters.
The book is written in the first person from the viewpoint of several varied characters so I had the feeling that I knew them all well. (Actually, at the denouement I realised that I didn't know all of them but that's another story). As the narrators change neatly with each chapter, there were only a couple of occasions when I had to check back to see who was talking.
Westlake ensures that the action keeps moving. The prologue gives a hint of what is to come but otherwise the story builds around fairly mundane small town life but the strength of the characters and their relationships locks you in and builds the intrigue.
As the story climaxes the plot becomes darker, at which point the author brings in all manner of twists and turns that will explain and surprise you at the same time.
I Am Here To Kill You provided me with excellent entertainment. It deserves nothing less than five stars.
Purchase Online From:
---
What did you think of 'I Am Here to Kill You'? Share your thoughts in the comment section below!
---
The above links are affiliate links. I receive a very small percentage from each item you purchase via these link, which is at no extra cost to you. If you are thinking about purchasing the book, please think about using one of the links. All money received goes back into the blog and helps to keep it running. Thank you.
Like us on Facebook – Tweet us on Twitter – Pin us on Pinterest