When the Sky Falls by Phil Earle – Book Review
When the Sky Falls by Phil Earle – Book Review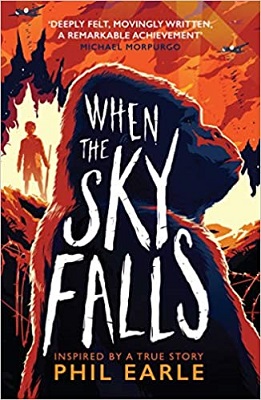 When the Sky Falls
Author – Phil Earle
Publisher – Andersen Press
Pages – 320
Released – 3rd June 2021
ISBN-13 – 978-1783449651
Format – ebook, paperback, audio
Rating – 4 Stars
I received a free copy of this book.
This post contains affiliate links.


Synopsis
1941. War is raging. And one angry boy has been sent to the city, where bombers rule the skies. There, Joseph will live with Mrs F, a gruff woman with no fondness for children. Her only loves are the rundown zoo she owns and its mighty silverback gorilla, Adonis.
As the weeks pass, bonds deepen and secrets are revealed, but if the bombers set Adonis rampaging free, will either of them be able to end the life of the one thing they truly love?
Inspired by a true story.
Twelve-year-old Joseph has had it tough, not only is there a world war raging, his mum has died, his dad has been enlisted to fight, and now his Grandmother has sent him to London to stay with an old friend of hers after she struggled to cope with him, whilst other children were being evacuated out of the city.
Mrs F (Farrelly) is the woman who is to look after Joseph. She is a stern woman who takes no nonsense from the young lad and makes him earn his keep, much to Joseph's disappointment. He hasn't even been there a day when he smashes his bedroom window.
Mrs F is also the keeper of the local zoo, which has been in her family for years. There she attends daily to care for the animals that are left behind, including Adonis the Gorilla who is as moody as Joseph is.
As Joseph settles into his new temporary home he realises that he is not alone, he also comes to share a bond with Adonis but as the bombs rain down on the city, both he and Mrs F know that if Adonis escapes his cage then they must do the unthinkable, a task neither of them wants.
When the Sky Falls is a historical fiction middle-grade novel based on a true story. As the war raged around the characters their strengths and weaknesses are brought to the forefront. Joseph is struggling with his life and he reacts the only way he knows by pushing people away and causing mayhem. Mrs F is a stubborn but fair woman who is trying to save her family's zoo and keep Joseph safe and show him in her own way how to survive.
The book was a slow read for me. There were pages when it felt like not a lot happened and at times I lost interest. At other times I was engrossed and couldn't wait to see where Joseph's story was taking him. This meant that I took quite a while to get through the book.
The plot is certainly different. Whilst you have our two main characters, the zoo also felt like a main character as did the war which felt eerie and ever-present in your mind.
When the Sky Falls is a powerful read. It will pull at your heartstrings and make you realise just how tough some people had it during the war and the bonds that can be connected between not only strangers but animals and humans too.
Purchase Online From:
---
What did you think of 'When the Sky Falls'? Share your thoughts in the comment section below!
---
The above links are affiliate links. I receive a very small percentage from each item you purchase via these links, which is at no extra cost to you. If you are thinking about purchasing the book, please think about using one of the links. All money received goes back into the blog and helps to keep it running. Thank you.
Like us on Facebook – Tweet us on Twitter – Pin us on Pinterest – Join us on Instagram