The Christmas Checklist by Lisa Hepner – Book Review
The Christmas Checklist by Lisa Hepner – Book Review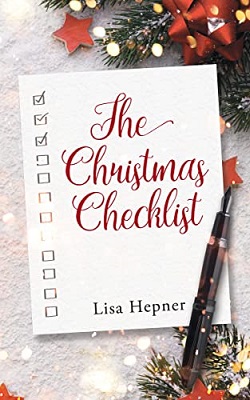 The Christmas Checklist
Author – Lisa Hepner
Release Date – 1st November 2022
Pages – 257
ISBN 13 – 979-8731803885
Format – ebook, paperback
Star Rating – 4
I received a free copy of this book.
This post contains affiliate links.

Synopsis
As seen on CBC in Canada.
An Inspirational Christmas Romance About Loss & Love. A grieving daughter. A red envelope that reads "Open December 1st." Inside is a checklist of twelve activities she must complete before Christmas.
Emily Richmond doesn't think she can even perform one of them because she just lost her mom—her best friend, her world—and she can barely leave the house. She takes a baby step by doing the first item on the checklist "donate jackets/clothes to a shelter."
At the coat drive, she literally bumps into charming freelance writer, Noah Cole. He's looking for an inspirational Christmas story in order to secure a full-time position at the local paper. Noah offers to help Emily complete the items on the checklist. She's hesitant, but "get to know a stranger" is on the list and she's dealing with uncertainty in her current long-distance relationship.
As the two start to check items off the list, Emily starts to trust Noah and even develops feelings for him. Noah has found a great holiday story—and romantic feelings of his own but he's afraid to give his heart to someone who might be leaving town. When Noah's article about the checklist is inadvertently published without Emily's approval, she feels betrayed, but she also sees how her mother's love-filled list is inspiring others around the country. Having worked through the checklist together, as Christmas Day approaches, will they be able to complete the last item on the list: find love? And will Emily be able to find peace and joy this holiday despite facing loss?
The Christmas Checklist is a festive feel-good novel by author Lisa Hepner. At the start of the book, we meet Emily Richmond who has recently lost her mum. She discovers an envelope written to her from her mother before her death which states she is to open it on the 1st of December. Within is a list of twelve things that her mother wanted her to complete before Christmas.
Still grieving the loss of her mum, her world, and her best friend, Emily starts slowly with the list and does just one thing on it, donate clothes to a local shelter.
The author then adds in sexy Noah Cole, whom Emily meets at the clothing shelter. He is a journalist and working on finding a Christmas story for his paper. Soon he feels that Emily's story is the one and he sets about helping her to achieve the rest of the things on the list.
Noah is also dealing with some issues of his own, however, soon the pair are spending more and more time together and there is an undeniable spark between them. Unfortunately, Noah does something to upset Emily. Can they let it pass and move on or is it the end for them?
Author Lisa Hepner has written a heart-warming story that will pull at your heartstrings and leave you warm and fuzzy.
The Christmas Checklist has been beautifully written and makes you sit back and think about things and people in your life.
Whilst I would say this would best be enjoyed around Christmas time in front of a log fire with a mug of hot chocolate to get the full feel of the book, reading during this hot weather we are having didn't take away the ambiance of the story for me.
---
Purchase Online:
Lisa Hepner

Lisa Hepner is a produced screenwriter specializing in Christmas romance. Her debut novel, The Christmas Checklist, is out this year. The limited series, The Christmas Checklist, will air on CBC in Canada Christmas 2022 and in the US in 2023. Look for her movies on IMDB. Lisa Hepner was a Nuclear Medicine Technologist for almost 20 years.
Author Links:
---
The above links are affiliate links. I receive a very small percentage from each item you purchase via these links, which is at no extra cost to you. If you are thinking about purchasing the book, please think about using one of the links. All money received goes back into the blog and helps to keep it running. Thank you.