The Finding Machine by Lucy Lyons – Book Review
The Finding Machine by Lucy Lyons – Book Review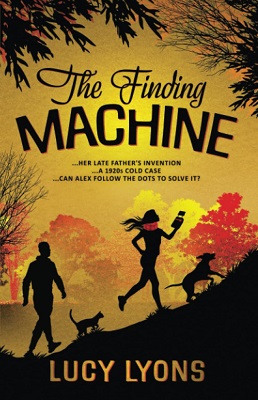 The Finding Machine
Author – Lucy Lyons
Publisher – Twist House Books
Release Date – 1st March 2023
Pages – 340
ISBN 13 – 978-1739307905
Format – ebook, paperback
Star Rating – 4.5
I received a free copy of this book.
This post contains affiliate links.

Synopsis
HER FATHER'S MYSTERIOUS INVENTION… A 1920s COLD CASE… CAN ALEX FOLLOW THE DOTS TO SOLVE IT?
It's 1998, and Alex Martin's life is falling apart. She's fast approaching the big 3-0, with her dreams of making it as an artist in shreds. Her handsome housemate Antony's moving on to better things while she's stuck in a dead-end job, touch-typing for a living like a 1950s pool secretary.
Then, one grey winter morning, Alex inherits a mysterious invention from her late father that changes everything. The Finding Machine solves mysteries. But the biggest mystery of all lies deep within its wiring — the unsolved disappearance of a little girl, dating back seventy years.
What happened to the girl, all those years ago? Who was she?
Alex is going to need Antony's help if she's to join the dots and solve the case. But as dark family secrets are revealed, will the Finding Machine bring them together…or push them further apart?
Full of twists and turns, the Finding Machine is an unputdownable mystery that will keep you guessing until the very end.
Buy now, and join Alex on the adventure of a lifetime!
'The Finding Machine' is an unusual story from the pen of British-based author, Lucy Lyons. It combines sci-fi and fantasy with the paranormal, all wrapped up in a cosy mystery. It is written in the first person and present tense. We're transported back to 1998 where we meet Alex, who is a budding artist and home-based typist. Alex shares a house with web-designer, Antony, in Ware. Work is beginning to dry up for Alex as more people invest in personal computers. There's no doubt Alex is in a career and life rut with little idea of how to improve her situation.
Everything changes once her mother sends her a mysterious machine invented by her late father. Through trial and error, she and Antony discover its purpose although they have no idea how it works. Rather sensibly the author doesn't try to give an explanation of its strange powers, other than a few vague possibilities discussed by Alex and Antony. After putting it to the test with positive results, Alex is determined to unravel a family secret and embarks on a voyage of discovery.
This book has been cleverly constructed and anchors the story in time and place to keep the reader engaged. A lot of us will remember the technology of the age and, of course, the all-important Filofax! There are some delightfully descriptive passages with a smattering of dry humour and a little pathos. A degree of foreshadowing helps build the suspense as we wait to see if Alex can solve a seventy-year-old mystery.
Alex is a multi-layered character; an independent woman yet not confident enough to be honest with her mother about all aspects of her life. Many of us will relate to their thorny relationship. We also get an insight into the historical family dynamics as Alex discovers exactly why her father built the machine.
I congratulate the author on the attention to detail in her research. If anything, maybe the plot is a bit thin and I confess to being slightly disappointed with the resolution. Nonetheless, after a fairly pedestrian start, the story held my attention until the end. I think many people will find it a refreshingly wholesome inoffensive read and I award four-and-a-half stars.
---
Purchase Online:
Lucy Lyons

Lucy Lyons worked in London as an editorial illustrator before realising she loved writing novels so much, she wanted to do that full-time.
She now lives in leafy Surrey with her illustrator husband, two grown-up boys and a bearded dragon called Pancake. When she's not at her desk writing, she loves to escape into the garden and other worlds.
Lucy writes page-turning mystery novels with a sprinkling of magic.
Author Links:
---
The above links are affiliate links. I receive a very small percentage from each item you purchase via these links, which is at no extra cost to you. If you are thinking about purchasing the book, please think about using one of the links. All money received goes back into the blog and helps to keep it running. Thank you.