The Last Tree by Luke Adam Hawker – Book Review
The Last Tree by Luke Adam Hawker – Book Review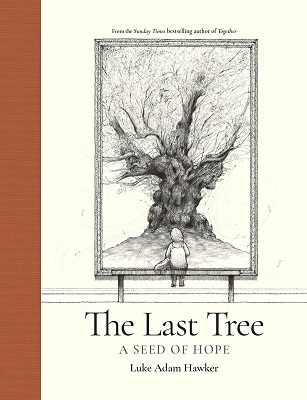 The Last Tree: A Seed of Hope
Author – Luke Adam Hawker
Publisher – Ilex Press
Release Date – 2nd March 2023
Pages – 64
ISBN 13 – 978-1781578704
Format – ebook, hardcover
Star Rating – 5
I received a free copy of this book.
This post contains affiliate links.

Synopsis
Imagine a world without trees. A world that is in many ways like our world, but where magnificent canopies, tree climbing and leaves rustling in the breeze are now only distant memories.
Until a young girl comes along, a girl who is brave and spirited and willing to follow where her imagination takes her. Through Olive's adventures in the world of trees we are reminded of nature's extraordinary power and beauty, and her actions ultimately sow the seeds of new life in her own world.
From the mind and pen of bestselling author Luke Adam Hawker, The Last Tree is a powerful evocation of the fragility of our natural world and a magnificent celebration of its beauty.
The Last Tree is a beautiful, thought-provoking book that had me staring at the pages long after I had read the words. Now you might not think that black-and-white illustrations could hold you captive but these certainly do.
The book features a young girl, Olive, who adores books and how each read is different, and how they can capture her imagination and take her on great adventures. In real life, Olive was also about to go on her own adventure. She was off to The Tree Museum, where the story of trees was told as they had died out years ago.
The Last Tree certainly gives you food for thought and makes you appreciate the world around you. It is touching, and heart-warming, and I think it may be respected more by adults than children who might not quite get the moral of the story.
The text on each page is just a few lines long and the illustrations vary in size, however, both are very moving. The story fills you with hope and gives you an uplifting feeling by the end. I had great pleasure reading this book and it will stay with me for a long time.
---
Purchase Online:
Luke Adam Hawker
Luke Adam Hawker worked as an architectural designer before becoming a full time artist in 2015. He sells his signed and limited edition prints to fans throughout the UK and the rest of the world. He has also been commissioned by brands such as the Soho House Hotel Group, and has an artwork hanging in the Parliamentary Art collection. He has over 300k very engaged Instagram followers.
Luke's first book, Together, was a Sunday Times bestseller. It has sold over 130,000 copies worldwide to date, and has been translated into nine languages.
Luke lives with his wife, son and dog Robin in Surrey, England.
Author Links:
---
The above links are affiliate links. I receive a very small percentage from each item you purchase via these links, which is at no extra cost to you. If you are thinking about purchasing the book, please think about using one of the links. All money received goes back into the blog and helps to keep it running. Thank you.