Voyage of the Sparrowhawk by Natasha Farrant – Book Review
Voyage of the Sparrowhawk by Natasha Farrant – Book Review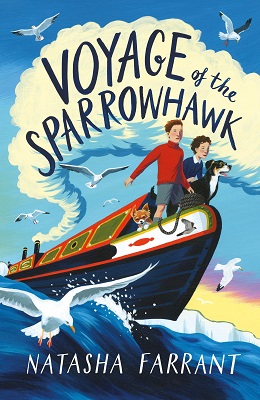 Voyage of the Sparrowhawk
Author – Natasha Farrant
Publisher – Faber & Faber
Pages – 368
Released – 3rd September 2020
ISBN-13 – 978-0571348763
Format – ebook, paperback
Review by – Stacey
Rating – 5 Stars
I received a free copy of this book.
This post contains affiliate links.


In the aftermath of World War One, everyone is trying to rebuild their lives. If Ben is to avoid being sent back to the orphanage, he needs to find his brother Sam, wounded in action and is now missing. Lotti's horrible aunt and uncle want to send her away to boarding-school (when she has just so successfully managed to get expelled from her last one!) And Clara, their young teacher, is waiting for news of her missing fiancé.
Just as they think they've found their feet in the new order, disaster strikes, and Lotti and Ben must get away. And so they hatch a plan – to cross the Channel on Ben's narrowboat and find Sam. And there's something in France that Lotti is looking for, too…
Buffeted by storms, chased by the police, Lotti, Ben, Clara and a growing number of dogs set out on an epic journey, on the search for lost loved ones and a place to call home.

In the aftermath of WWI Lotti is living with her vile Uncle and Aunt in a home that she owns but can't take possession of until she is twenty-one, left to her by her deceased parents. She hates living there and feels more like a slave than a member of the family.
Ben is living alone on a narrowboat called Sparrowhawk. His adopted father Nathan died in a hospital bombing in France where he had gone to visit Ben's brother Sam who was a soldier in the war and had been injured. There is no news on Sam and he is declared missing.
One day whilst been allowed some time out to play Lotti rescues a dog from a bully who had him locked in a cage, she hides in the narrowboat and is found by Ben. The two become firm friends, but when Lotti's Uncle tells her he is sending her away to boarding school and the police come looking for Ben the two decide to run away on the boat to France in search of Ben's brother and also Lotti's Grandmother who she hasn't heard from in over a year.
Will the children find what they are searching for and will they be able to cross the channel in a boat designed for canal travel only?
Voyage of the Sparrowhawk is a beautiful, poignant book about two children who have lost everything and who are clinging on to the hope that they could find a missing part of themselves in France. They feel like they have no-one who cares about them except each other and that although the crossing of the channel to France will be dangerous they feel like they have nothing to lose.
Lotti is a very clever young girl but quite impulsive where Ben is calmer and pragmatic. The two characters work well together, alongside their dogs Frederico and Elsie who have puppies on their crossing too.
The writing style of author Natasha Farrant took some getting use to at the beginning as it felt like she was talking to the reader about the children, however, after the initial first few pages this style grew on me and I settled in for the long journey with the children.
I simply adored this book. It is filled with adventure, bravery, love, friendship, and hope. We might only be in April and this might be a children's book but I think I have found a contender for my favourite book of the year as once I started it I was lost within the pages and didn't want it to end.
Unfortunately, due to the virus, the release of the book has been put back until September, however, this is a book worth waiting for.
Book Reviewer – Stacey
---
Purchase online from:
---
About the Author

Natasha Farrant grew up in the heart of London's French community, and currently combines writing with her career as a Literary Scout. She is the author of two successful novels for adults, Diving Into Light and Some Other Eden, both published by Transworld. She lives in West London with her husband, two daughters and a large tortoiseshell cat.



---
What did you think of Voyage of the Sparrowhawk? Share your thoughts in the comment section below!
---
The above links are affiliate links. I receive a very small percentage from each item you purchase via these link, which is at no extra cost to you. If you are thinking about purchasing the book, please think about using one of the links. All money received goes back into the blog and helps to keep it running. Thank you.
Like us on Facebook – Tweet us on Twitter – Pin us on Pinterest