Ollie's Backpack by Riya Aarini – Book Review
Ollie's Backpack by Riya Aarini – Book Review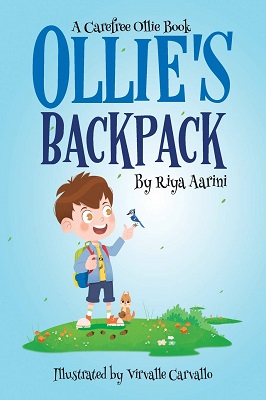 Ollie's Backpack
Carefree Ollie Book One
Author – Riya Aarini
Pages – 38
Released – 12th July 2020
ISBN-13 – 978-1733166157
Format – ebook, paperback, hardcover
Review by – Stacey
Rating – 3.5 Stars
I received a free copy of this book.
This post contains affiliate links.


Ollie carries his trusty backpack wherever he goes. Soon enough, his backpack starts to fill with worries! Eventually, Ollie begins to feel the weight of his cares. How does young Ollie handle all his woes, from his broken toy to his wilted sunflower? He learns to let them go! Be a part of Ollie's heartening journey toward discovering what cares to hold onto and which ones to let go!
Pick up this delightfully illustrated early reader for your little worry wart!

Ollie takes his backpack everywhere with him. Over time he has learned what he can and cannot carry in it, such as he can't carry an igloo! One day Ollie has a bad day at school starting with not getting the answer right on a paper, he then gets turned down to share his Granola bar with a friend and a bully breaks his toy plane, though his music lesson is enjoyable and he wins a trophy.
Ollie puts all these things and more in his backpack but on the way home, he realises his bag is too heavy and decides to do something about it.
I have mixed feelings about Ollie's Backpack. The story is sweet and is about helping children who worry to work through their worries. It is also illustrated beautifully. However, I felt it went on for too long and that the beginning didn't really represent the rest of the story about helping children who worry, I just didn't understand the need to talk about things that wouldn't fit in the bag, like a moose or a melon, etc.
I'm sure children will probably enjoy the first part though but in my opinion, I'd rather the book stuck to dealing with the issue it was written for.
Book Reviewer – Stacey
---
Purchase online from:
---
About the Author

Riya Aarini's latest endeavor is her Carefree Ollie series, written for an early reader audience (ages 5-7). Ollie's Backpack is Book One in the series, with Book Two following in the Fall of 2020. Stay tuned for more inspiring children's books!




---
What did you think of Ollie's Backpack? Share your thoughts in the comment section below!
---
The above links are affiliate links. I receive a very small percentage from each item you purchase via these link, which is at no extra cost to you. If you are thinking about purchasing the book, please think about using one of the links. All money received goes back into the blog and helps to keep it running. Thank you.
Like us on Facebook – Tweet us on Twitter – Pin us on Pinterest