Blood On The Law by William A. Graham – Book Review
Blood On The Law by William A. Graham – Book Review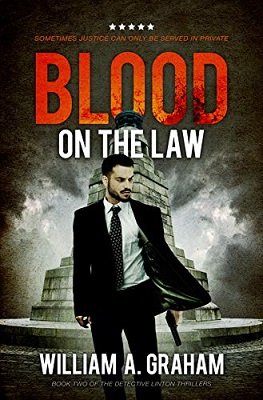 Blood On The Law
The Detective Linton Thrillers Book Two
Author – William A. Graham
Publisher – A & I Publishing
Pages – 353
Released – 14th October 2019
ISBN-13 – 978-1916233102
Format – ebook, paperback
Review by – Stacey
Rating – 5 Stars
I received a free copy of this book.
This post contains affiliate links.


Two kilos of pure cocaine … that's what the police found hidden in Michael Grant's car. Worth about two million on the street and it's going to cost Michael ten years in jail unless private detective Allan Linton can prove he was framed.
The cops are convinced that Michael is guilty. Even his own lawyer doesn't believe he's innocent. And there are others who have their own reasons for seeing Michael behind bars … and they will stop at nothing to prevent Allan and his associate, Niddrie, getting to the truth.

Dundee Private Detective Allan Linton and his associate Niddrie are back in their second book after the success of 'Vermin'. This time the duo are working on two very different cases. Their first case sees them at the home of a former army officer whose deceased wife's jewellery and his medals have been stolen in a distraction theft.
The second case is trying to figure out who planted two million pounds worth of cocaine in Michael Grant's car. Allan has known Michael since primary school, he also knows that he most definitely is a drug dealer, however, he also knows that Michael never gets his hands dirty and never touches the drugs himself, and so he is certain that he has been set up.
Can Allan and Niddrie clear Michael or will there be too many obstacles in their way that even they can't see a way around them?
Having really enjoyed the first book, Vermin, and William A. Graham's writing style I was overjoyed when I was asked if I would like to read the second book in the series. Blood on the Law is told in the first person, from Allan Linton's point of view (except for the prologue). Allan is one of those characters that I immediately hit it off with. He has a dry sense of humour, doesn't take himself too seriously and puts 100% loyalty and dedication into his work and finding the truth.
Niddrie was his usual quiet self, although I did feel that he has slightly more to say and we found out more about him and his life in this book. I find him a fascinating character because there are so many layers to him that peel away slowly. He has the big, aggressive look to him that is scary to some of the people he interviews, however, there is also a softer side to him under that exterior.
The book is very believable, the characters realistic, and the plot perfectly executed. There were no useless filler sections and Allan and Niddrie's private lives whilst talked about in the story was kept to a minimum compared to the cases they were working on.
Once I started Blood on the Law I didn't want to put it down. I do hope that there will be more from the duo as they are damn fine, 'Inquiry Agents' and I'm sure that there are more people in Dundee who require their services.
Book Reviewer – Stacey
---
Purchase online from:
---
What did you think of Blood On The Law? Share your thoughts in the comment section below!
---
The above links are affiliate links. I receive a very small percentage from each item you purchase via these link, which is at no extra cost to you. If you are thinking about purchasing the book, please think about using one of the links. All money received goes back into the blog and helps to keep it running. Thank you.