Battle Song by Ian Ross – Book Review
Battle Song by Ian Ross – Book Review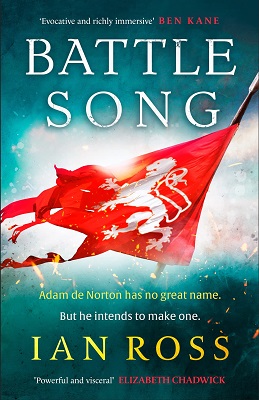 Battle Song
de Norton trilogy Book One
Author – Ian Ross
Publisher – Hodder & Stoughton
Release Date – 30th March 2023
Pages – 416
ISBN 13 – 978-1399708845
Format – ebook, paperback, hardcover, audio
Star Rating – 5
I received a free copy of this book.
This post contains affiliate links.

Synopsis
'There is a fury in England that none shall suppress – and when it breaks forth it will shake the throne'
1264
Storm clouds are gathering as Simon de Montfort and the barons of the realm challenge the power of Henry III. The barons demand reform; the crown demands obedience. England is on the brink of civil war.
Adam de Norton, a young squire devoted to the virtues of chivalry, longs only to be knighted, and to win back his father's lands. Then a bloody hunting accident leaves him with a new master: the devilish Sir Robert de Dunstanville, who does not hesitate to use the blackest stratagems in pursuit of victory.
Following Robert overseas, Adam is introduced to the ruthless world of the tournament, where knights compete for glory and riches, and his new master's methods prove brutally effective.
But as England plunges into violence, Robert and Adam must choose a side in a battle that will decide the fate of the kingdom. Will they fight for the king, for de Montfort – or for themselves?
Searingly vivid and richly evocative, Battle Song is tale of friendship and chivalry, rivalry and rebellion, and the medieval world in all its colour and darkness.
I love a book that triggers my interest and Ian Ross has certainly done that. Before reading Battle Song I knew two things about Simon de Montfort. Firstly, from a visit to Leicester, I knew that his name is closely linked with the city. Secondly, during a hike on the Sussex downs I came across a display board acknowledging the site of the Battle of Lewes which was fought between the armies of King Henry III and Simon de Montfort. I am therefore grateful to Ian Ross for supplementing my education and encouraging me to learn more about this significant but controversial figure from English history.
Ian Ross is no stranger to historical fiction having published his six volume Twilight of Empire series covering the final days of the Roman occupation of Britain. I understand that Battle Song is his first book to cover the middle ages and is scheduled to be the first of a trilogy.
The story is set during the years leading up to 1264AD during which time there was much discontent towards King Henry III who was reluctant to hand over further powers to the country's barons even though they had been legally granted by King John in the Magna Carta in 1215 and in subsequent legislation.
Against this backdrop we follow the fictional characters of Sir Robert de Dunstanville, his squire Adam de Norton and their small support team while they travel northern France and the low countries making a living from tournaments and honing their fighting skills, with the eventual hope of regaining their family lands which had been taken away. Their adventures are woven into the times and include several real persons and events.
Ross clearly researches his subjects thoroughly and the text is packed with detail of the times including the types of armour, living conditions, horses, tournament techniques, chivalry and medieval politics. He is also exceptionally good at describing the real battle scenes that occur later in the book. Despite all this detail nobody should find the book dull; it certainly kept me enthralled.
As you would expect, the story is not always cheerful. Life in the 13th century was violent and the poor were frequently at the mercy of the land owners. There are also some rather dreadful actions against the Jewish population of England; persecution that has frequently occurred throughout the world for millennia.
Civil wars are terrible thing but it is generally impossible to be neutral. This was Robert and Simon's dilemma. If you read Battle Song you will undoubtedly learn more about Simon de Montfort, his failings and his achievements but what will your opinion be? He has been described as the father of the English parliament but would you follow him? I'm not going to give my opinion but as an entertainment and an education in 13th Century English history I gladly give Battle Song five stars and look forward to seeing how he handles the next two volumes of this trilogy.
---
Purchase Online:
Ian Ross

Ian Ross was born in England and studied painting before turning to writing fiction. He has travelled widely and worked as a bookseller, tutor and university lecturer while developing his writing abilities. A year in Italy teaching English and exploring the ruins of empire reawakened his early love for ancient history, and he returned to the UK with growing fascination for the period known as late antiquity.
He has been researching and writing about the later Roman world and its army for over a decade, and his interests combine an obsessive regard for accuracy and detail with a devotion to the craft of storytelling.
Author Links:
---
The above links are affiliate links. I receive a very small percentage from each item you purchase via these links, which is at no extra cost to you. If you are thinking about purchasing the book, please think about using one of the links. All money received goes back into the blog and helps to keep it running. Thank you.