Daphne Higginbotham Battles the Fifth Grade by Rosemary Starr – Book Review
Daphne Higginbotham Battles the Fifth Grade by Rosemary Starr – Book Review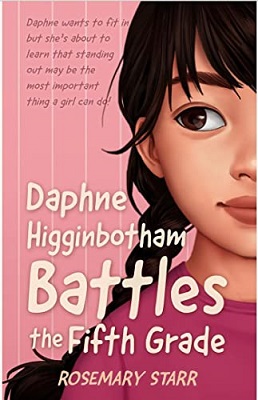 Daphne Higginbotham Battles the Fifth Grade
Author – Rosemary Starr
Publisher – Dark Horse Publications
Release Date – 1st March 2023
Pages – 160
ISBN 13 – 979-8215401781
Format – ebook, paperback
Star Rating – 4
I received a free copy of this book.
This post contains affiliate links.

Synopsis
Daphne Higginbotham Battles the Fifth Grade is a tender, uplifting story about the power of formative friendships. Daphne is an international adoptee from China living with her family in small-town Georgia. She just wants to survive the fifth grade but her best friend has autism, she's being targeted by a bully named Agnes and her teacher may be a zombie!
This is a humorous tale of an imaginative, outspoken, misfit. No matter what happens Daphne won't give up and along the way she'll learn to see familiar people in new ways. Daphne and her friends can overcome anything together!
Daphne Higginbotham is a Chinese young girl who was adopted by her American parents and now lives in a small town in Georgia, USA. At the start of the book, school is about to open after the summer break and Daphne is entering the fifth grade. Unfortunately, she has the worst teacher she could get, Mrs. Mishnik, who is also the school psychologist.
Daphne and her friend Byron, who is Autistic, believe that Mrs. Mishnik is a zombie. There is also the new girl in town who just happens to be her dad's new boss's daughter Agnes to contend with, and she's a big bully. This year is going to be just horrible!!
You couldn't get a more apt title for a book than Daphne Higginbotham Battles the Fifth Grade as the whole book is about just that. Daphne thought the fourth grade was bad, but this year is looking to be even worse. I'm sure plenty of children have dreaded changing years, getting a new class teacher, and sometimes new classmates. It can be a daunting time and for Daphne being Chinese in a mainly American school is super hard.
What I love about this book is that the author doesn't shy away from showcasing both the good and bad in children and teachers and she also lets us into Daphne's vulnerable side and her worries about her adoption and future.
The story is very entertaining. The chapters are short and have great titles, such as Terror, Secrets, and Stupidity. It is easy to connect with the characters and emphasise with them. The reader also gets to go on a journey with Daphne as she grows a lot during this story and comes to realise many things about herself and others. Her realisations and re-evaluations of her situations may just help the reader with their life choices too.
---
Purchase Online:
Rosemary Starr
Rosemary Starr is an ELA and SS teacher who lives in the hill Country of Texas with her three children, two dogs and an absent minded-professor.
After earning her BA in communications, Rosemary worked in Thailand for several years as the director of a children's home. After that she moved into non-profit fundraising before finally becoming an elementary school teacher.
No matter what her job has been though, she has always been writing! Rosemary's love of stories and the written word has stuck with her through it all.
She enjoys hot baths and Italian food and believes in ghosts.
Author Links:
---
The above links are affiliate links. I receive a very small percentage from each item you purchase via these links, which is at no extra cost to you. If you are thinking about purchasing the book, please think about using one of the links. All money received goes back into the blog and helps to keep it running. Thank you.