How to Make a Book by Becky Davies – Book Review
How to Make a Book by Becky Davies – Book Review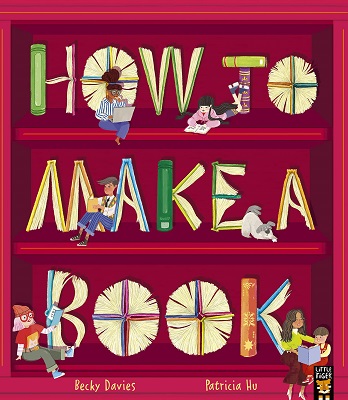 How to Make a Book
Author – Becky Davies
Illustrator – Patricia Hu
Publisher – Little Tiger
Release Date – 6th July 2023
Pages – 32
ISBN 13 – 978-1801041812
Format – Paperback, Hardcover
Star Rating – 5
I received a free copy of this book.
This post contains affiliate links.

Synopsis
An inspiring and informative illustrated guide to publishing with a clear and concise text from Becky Davies and characterful, approachable illustrations from Patricia Hu.
Do you think it would be cool to have a job where you make books? Have you ever wondered how a book is made? Wonder no more! Follow the stages from acquisition and artwork to publicity and printing, giving you an accurate look at the entire process of what it took to make THIS brilliant book.
This illustrated guide of creating a full colour children's book is suitable for children, publishing and bookselling professionals, artists and authors – it is perfect for ANYONE who wants to see how a book is made! The ideal follow-up for children who love to write and draw their own stories.
How to Make a Book is a children's picture book (but one any buddy author should read) that is all about the process of going from the idea stage of writing a book to the book being published and bought by the public.
The book looks at the process quite in-depth for a children's book but in easy-to-understand small snippets that are illustrated highly.
This book has made me realise how many different people and layers there are to publishing a children's book – traditionally. Self-publication works a bit differently. It is interesting and educational but in a way that the reader won't even realise they are being educated.
I adored this book. It is informative and good fun. Readers will love watching the book they are reading come to life. The glossary at the back of the jobs and processes in the publishing industry is a bonus too.
---
Purchase Online:
Becky Davies
Becky Davies is a children's book editor and sometimes author from the South West of England. Her favourite things are animals, books about magic, and anything sparkly. In a parallel universe she lives in Hawaii, where she works in a dog sanctuary and surfs until the sun sets beyond the horizon.
Author Links:
---
The above links are affiliate links. I receive a very small percentage from each item you purchase via these links, which is at no extra cost to you. If you are thinking about purchasing the book, please think about using one of the links. All money received goes back into the blog and helps to keep it running. Thank you.