The Captain's Favourite Treasure by Angela Fish – Book Review
The Captain's Favourite Treasure by Angela Fish – Book Review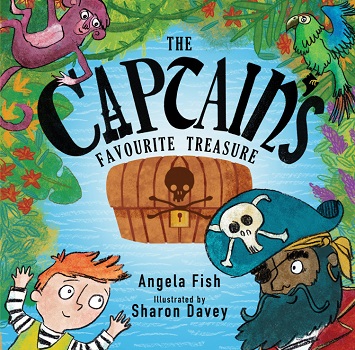 The Captain's Favourite Treasure
Author – Angela Fish
Illustrator – Sharon Davey
Publisher – Troubador Publishing
Pages – 26
Released – 14th February 2018
ISBN-13 – 978-1789013092
Format – ebook, paperback
Reviewer – Stacey
Rating – 4 Stars
I received a free copy of this book
Post contains affiliate links
Meet Tom. Tom is a cabin boy on the pirate ship The Puffin and loves it very much. When Captain Cutlass Crank goes ashore on Pirate Island, he tells Tom to look after his favourite treasure, but when he returns, the treasure is missing! The captain is very angry and says that Tom must find his treasure – or stay behind on Pirate Island for good.
Tom asks his parents, his parrot, Giggles, and the crew too, but none know what has happened to the treasure. Determined to find it, Tom takes a boat and rows to lots and lots of strange islands searching for the treasure. Can the fire tigers help him? What about the Jigsaw people or the fish under the waves? Will Tom ever find the treasure?
With lively language, quirky illustrations by Sharon Davey (Creative Fox) and a surprise ending, The Captain's Favourite Treasure is a picture book that young readers will enjoy time and time again.

Tom lived on a pirate ship with his Mum, Dad and Parrot, Giggles. He worked as a Cabin Boy for the Captain – Cutlass Crank. One day the captain asked Tom to look after his favourite treasure whilst he went ashore.
When Tom went to the Captain's cabin he couldn't find any treasure to look after. Upon his return the Captain was angry and demanded that Tom find his treasure or he would have to go and stay on Pirate Island.
Gathering a few bits to eat and drink, Tom set off in a small rowing boat to try to find the treasure. This was the start of Tom's adventures.
This is a short young children's adventure book. The illustrations are bright and colourful and the text large and bold, making it a great book for a child learning to read.
The book follows Tom as he visits numerous different islands looking for the treasure, each one is unique and very different from the next.
There is a great twist in The Captain's Favourite Treasure too, which added to the enjoyment.
Reviewed by Stacey
---
Purchase online from:
---