A Pirate's Song by Justin Davis – Book Review
A Pirate's Song by Justin Davis – Book Review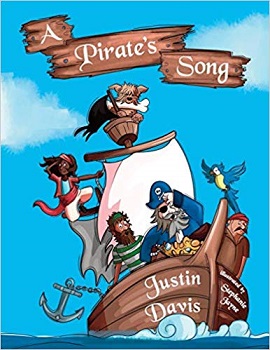 A Pirate's Song
Author – Justin Davis
Publisher – Blue Falcon
Pages – 32
Released – 13th June 2019
ISBN-13 – 978-1912765034
Format – paperback
Reviewer – Stacey
Rating – 4 Stars
I received a free copy of this book.
This post contains affiliate links.
Ahoy there me hearties!
Are ye brave? Are ye strong? Can ye sing a pirate's song?
Will ye search for treasures old,
jewels and trinkets, pearls and gold?
Then climb aboard and join our crew.
Quickly now, there's work to do!
If you've ever wondered what it's like to be a pirate or fancied hauling anchor and sailing the seven seas, then this is just the tale for you!
This bright and beautiful rhyming picture book from award-winning children's author, Justin Davis, will capture the imagination of any budding sea dog!

A Pirate Captain and his crew, including the ship's dog and parrot, set sail to find buried treasure. Not long into their journey, the weather turns on them bringing heavy rain and it begins thundering and lightning. The crew has to work hard to keep the ship heading in the right direction and they all sing a pirate song to keep them motivated.
Once the storm has passed land can be seen but will they find the buried treasure they set out searching for?
A Pirate's Song is a fun, engaging rhyming book that you just can't help reading in your best pirate voice – 'Shiver me timbers'. The full-page illustrations are simply divine and make this book extra special. They also help non-readers to understand what is happening at every stage.
Once the children have read through the book, hopefully enjoying every moment, there is more for them at the back as the author has added a few a short quiz about the story and also a puzzle to solve too.
The book is very sweet and I can see children really enjoying it. I can imagine the kids reading it then wanting to play pirates and doing their best pirate impressions.
I think this would work well as both a book to have at home and one for a class read too.
Book Reviewer – Stacey
---
Purchase online from:
---
About the Author

Justin grew up and lived in a lovely rural village in East Yorkshire before moving to Northamptonshire, where he lives with his wife, Nina, and his three beautiful children.
Justin's desire to write is very much rooted in his love of reading and writing a book is something that had been on 'life's list' for many years!
Wanting to pass this love of books onto his children, Justin started to play with the idea of writing a children's story. After completing a writing course, and after much coffee drinking and many screwed up pieces of A4, Escape from Nettle Farm (in its first incarnation) was complete! It then went through many painful rewrites and edits to get to the stage where Justin was ready to say, 'Finished!'
Justin wanted to write something that would be fun and exciting for parents to read to children, or for children to read independently. Escape from Nettle Farm was a finalist in the 2017 People's Book Prize and received the Red Ribbon Award in the 2016 Wishing Shelf Book Awards.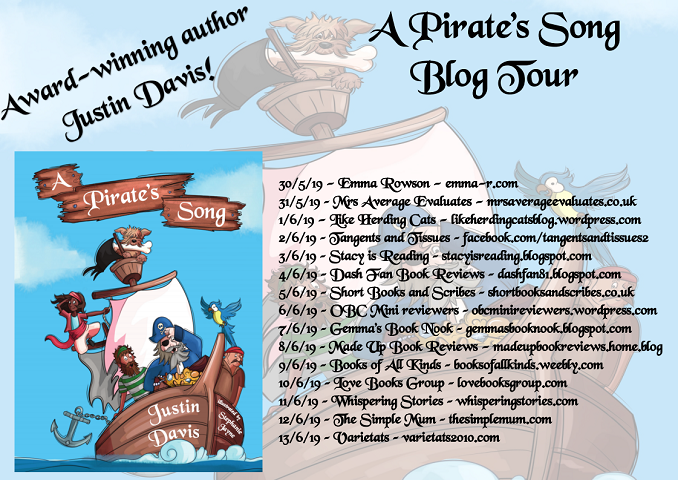 ---
What did you think of the book? Share your thoughts in the comment section below!
---
The above links are affiliate links. I receive a very small percentage from each item you purchase via these link, which is at no extra cost to you. If you are thinking about purchasing the book, please think about using one of the links. All money received goes back into the blog and helps to keep it running. Thank you.