Jurassic Rat by Eleanor Ann Peterson – Book Review
Jurassic Rat by Eleanor Ann Peterson – Book Review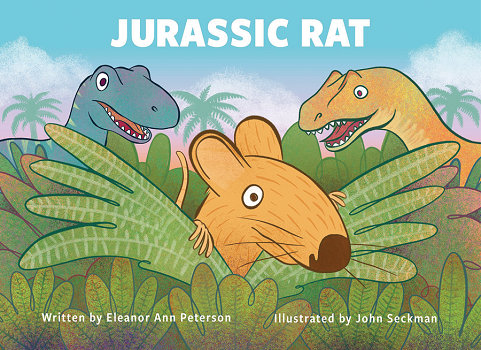 Jurassic Rat
Author – Eleanor Ann Peterson
Publisher – Spork
Pages – 34
Released – 4th June 2019
ISBN-13 – 978-1950169122
Format – hardcover
Reviewer – Stacey
Rating – 4 Stars
I received a free copy of this book.
This post contains affiliate links.
Most folks know about dinosaurs but how many know about Jurassic rats? This is the story of one Jurassic rat, the size of a cat, who faces enormous dangers going in search of food for his family.
Unfortunately, because he's a bit on the clumsy side, Rat gets into all sorts of troubles tripping over logs, dropping precious eggs, and coming face to face with a terrifying allosaurus.
Will Rat live to feed and snuggle with his family one more time before going out and doing it all over again?

Back in the Jurassic period there live a rat as big as a cat. Rat had a very big family and it was up to him to go out each day into the land of the dinosaurs and fetch them home some food. Unfortunately, Rat was rather clumsy.
Follow rat as he tries to search out and take home the food that he's found without him losing it on the way.
I hadn't actually heard of a Jurassic Rat before but they did exist 160-million-years-ago. They were bigger versions of the modern-day rat. In this story, Rat has lots of mouths to feed and he has to go out every day into the dangerous land where the dinosaurs roamed to gather food and take it back to his home to stop his family from starving.
He didn't enjoy having to enter dangerous territory but he knew he had to for his family. Rat was also very clumsy and could fall over his own feet, so getting food back to his family was doubly hard.
The book is very entertaining and enjoyable. I did think it was going to be told in rhyme as the opening page has rhyming text but the rest of the book is not told in rhyme form. There are only a few words per page which would make this book a great choice for those learning to read and new readers.
The illustrations by John Seckman are superb. They are eye-catching and a lot of fun. I can see children giggling away at some of the expressions rat pulls and the animals he has to deal.
At the back of the book is information on Jurassic Rats and a glossary of terms, so the book is educational too. I think this book is just delightful and I certainly learned something new whilst enjoying a great story too.
Book Reviewer – Stacey
---
Purchase online from:
---
What did you think of the book? Share your thoughts in the comment section below!
---
The above links are affiliate links. I receive a very small percentage from each item you purchase via these link, which is at no extra cost to you. If you are thinking about purchasing the book, please think about using one of the links. All money received goes back into the blog and helps to keep it running. Thank you.