Amari and the Night Brothers by B. B. Alston – Book Review
Amari and the Night Brothers by B. B. Alston – Book Review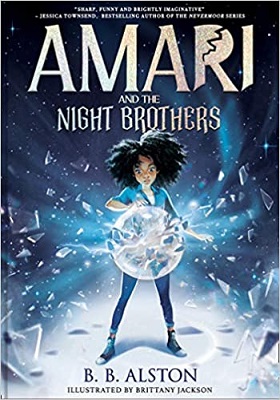 Amari and the Night Brothers
Author – B. B. Alston
Publisher – Egmont
Pages – 34
Released – 21st January 2021
ISBN-13 – 978-1405298179
Format – ebook, hardcover, audio
Review by – Stacey
Rating – 5 Stars
I received a free copy of this book.
This post contains affiliate links.


Amari Peters knows three things.
Her big brother Quinton has gone missing.
No one will talk about it.
His mysterious job holds the secret . . .
So when Amari gets an invitation to the Bureau of Supernatural Affairs, she's certain this is her chance to find Quinton. But first she has to get her head around the new world of the Bureau, where mermaids, aliens and magicians are real, and her roommate is a weredragon.
Amari must compete against kids who've known about the supernatural world their whole lives, and when each trainee is awarded a special supernatural talent, Amari is given an illegal talent – one that the Bureau views as dangerous.
With an evil magician threatening the whole supernatural world, and her own classmates thinking she is the enemy, Amari has never felt more alone. But if she doesn't pass the three tryouts, she may never find out what happened to Quinton . . .

A magical world hidden from the everyday person. A world where 'other beings' live amongst us. A bureau designed to look after and protect both the humans and 'others'. A Magician so powerful and evil he wants to take over. A young girl in search of her brother. This is 'Amari and the Night Brothers'.
Amari Peters is a young girl whose older brother Quinton went missing months ago. After an altercation at school with the popular girls which sees Amari expelled, she has to stay home alone whilst her mum works a shift at the hospital.
A man delivers a package to Amari with the sender being Quinton Peters. With a large document warning her not to open it unless it is definitely addressed to her and a briefcase she can only open late at night, Amari wonders what is going on. That is until she puts on the glasses that were within the case and Quinton is there to show her a world she never knew existed. He also tells her that he was working for the Bureau of Supernatural Affairs before he disappeared and that all though he has gone missing he has nominated Amari for a place at the Summer School there.
Amari isn't bothered about working for the bureau, her only goal is to discover what happened to her brother and bring him home, but a cloud of mystery and classified information greet her. With the help of her new friend and roommate Elsie who is a Weredragon, Amari will stop at nothing to find her brother and his partner who also went missing at the same time, together they are known as VanQuish.
Amari and the Night Brothers is like Men in Black for children. It is also the first in a series by a debut author and oh what a book it is!
The story is a complete roller-coaster ride from the very beginning. It is exciting and adventurous. The world-building is magnificent. It is exceptionally imaginative and easy to visualise. I especially loved the talking elevators who each had a unique personality. As well as adventure the book is filled with sibling love and the desire to find Quinton is in Amari's heart at all times.
The characters are all truly amazing with our main character Amari being quite the girl. She is head smart, kind, stronger than she gives herself credit for, and she has a red hot determination within her. She is a trier and gives everything 100%. She pushes through times when she is scared and finds her inner courage.
The plot is not just another middle-grade novel trying to ride on the coattails of Harry Potter, this book stands on its own two feet. I can see it being a big hit next year when it is released and if we have learned anything from the HP books, buy a first copy it just might be worth something in a few years, in fact, buy two, one to keep without opening and one to read as you definitely don't want to miss this book.
Book Reviewer – Stacey
---
Purchase online from:
---
About the Author

B. B. Alston lives in Lexington, SC. Amari and the Night Brothers is his debut middle grade novel. When not writing, he can be found eating too many sweets and exploring country roads to see where they lead.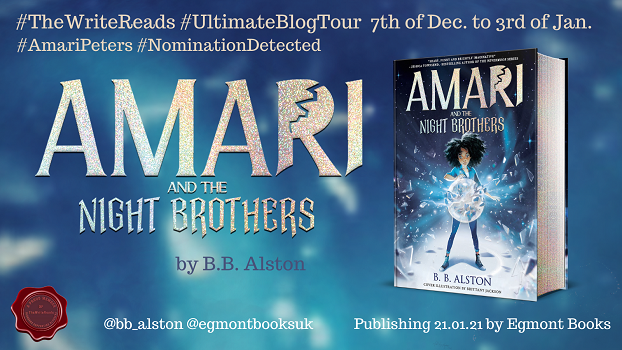 ---
What did you think of Amari and the Night Brothers? Share your thoughts in the comment section below!
---
The above links are affiliate links. I receive a very small percentage from each item you purchase via these link, which is at no extra cost to you. If you are thinking about purchasing the book, please think about using one of the links. All money received goes back into the blog and helps to keep it running. Thank you.
Like us on Facebook – Tweet us on Twitter – Pin us on Pinterest