Albert and the Wind by Ian Brown – Book Review
Albert and the Wind by Ian Brown – Book Review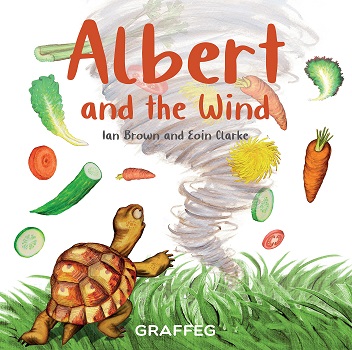 Albert and the Wind
Albert the Tortoise Book Two
Author – Ian Brown
Illustrator – Eoin Clarke
Publisher – Graffeg
Pages – 36
Released – 14th October 2021
ISBN-13 – 978-1913733445
Format – ebook, paperback
Rating – 5 Stars
I received a free copy of this book.
This post contains affiliate links.


Synopsis
Pet tortoise Albert is having a bad day. His sleep is disturbed by the wind in the trees and then, as he goes to tuck into his food, the wind blows it away. Can the other garden creatures rally round and help Albert retrieve his meal? And will Albert be able to thank them all properly?
Comical, charming illustrations with a classic feel bring this timeless tale to life, revealing the importance of helping others and showing gratitude for that help. Also included – fascinating facts about the real tortoise called Albert who inspired this story, a modern day minidinosaur living life on the veg!
Albert and the Wind is the second book in the Albert the Tortoise series, based on the life of a real tortoise, who as you may have guessed is called Albert. We reviewed book one Albert Upside Down back in April and loved it.
In this second book, Albert was happily sleeping when a loud noise woke him up. Swoosh!, whoo!, wharr! went the wind as it violently blew through the garden. As he was now awake Albert realised he was hungry and went off to go and eat the vegetables that has been left for him. However, as he was about to take a bite the wind whipped them all up and blew them away.
One by one his friends in the garden returned his food to him, but he never got a chance to thank them as they left so quickly. That was until he came up with a novel idea.
Albert and the Wind is a delightfully fun children's picture book. It has everything a children's book should have. Including a great storyline, scenes children can laugh at, and the most amazing full-page illustrations that capture the plot and the emotions of the characters perfectly.
I adored the story and giggled at Albert's unusual way of saying thank you to his friends. I certainly didn't see that coming.
At the back of the book, there are facts on Albert and his friends mentioned in the book which will give kids the opportunity to learn more about tortoises and garden creatures.
This is a truly wonderful book that will keep children entertained, as well as teach them an important lesson. The series is really starting to take shape and I can't wait for more books to come to see what Albert gets up to next.
Purchase Online From:
---
What did you think of 'Albert and the Wind'? Share your thoughts in the comment section below!
---
The above links are affiliate links. I receive a very small percentage from each item you purchase via these links, which is at no extra cost to you. If you are thinking about purchasing the book, please think about using one of the links. All money received goes back into the blog and helps to keep it running. Thank you.
Like us on Facebook – Tweet us on Twitter – Pin us on Pinterest – Join us on Instagram