Albert Upside Down by Ian Brown – Book Review
Albert Upside Down by Ian Brown – Book Review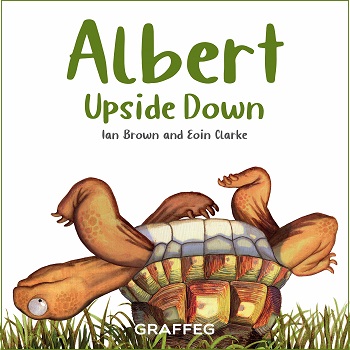 Albert Upside Down
Albert the Tortoise
Author – Ian Brown
Illustrator – Eoin Clarke
Publisher – Graffeg Limited
Pages – 36
Released – 27th April 2021
ISBN-13 – 978-1913634162
Format – ebook, paperback
Rating – 5 Stars
I received a free copy of this book.
This post contains affiliate links.


Synopsis
Albert the pet tortoise has a problem: trying to reach a tasty treat, he has ended up on his shell, upside down and stuck! Can the other garden creatures overcome their rivalry, team up and help him get back on his feet? Packed with comical, charming illustrations and vibrant colour, this timeless tale shows the power of working together, thinking creatively, and how even the smallest amount of assistance can make a very big difference.
Also included are fascinating facts about the real-life tortoise called Albert, who inspired this story, and tortoises around the world a modern-day mini-dinosaur living life on the veg!
From the opening page of Albert Upside Down when you come face to face with the world the wrong way around and then meeting Albert as he is trying to remember why he is seeing the world this way, this book had me smiling. The plot is superb, it is completely delightful and I can predict that children are going to adore Albert, who happens to be a real Tortoise.
Being stuck upside down means that Albert requires some help from the other creatures nearby. The ants, worms, spiders, bees, caterpillars, etc quickly realise that if they are going to turn Albert around then they have to work together. Though it takes one of the youngest creatures to come up with the winning formula.
The book is superbly illustrated with images that bring Albert's world alive. I love how colourful the pages are, except for when Albert is trying to think back to what happened to him, then they are dark and dull as his memory comes back.
This is a fun, amusing story that I enjoyed the whole way through. It was lovely at the end to be told all about the real Albert, and also have some facts about Tortoises shared with us.
This is the first book in a planned series and if this book is anything to go by, this is going to be one series that you want your children to be reading as who doesn't love a book that keeps a child entertained, gives them a laugh and educates them in a fun way too.
Purchase Online From:
---
What did you think of 'Albert Upside Down'? Share your thoughts in the comment section below!
---
The above links are affiliate links. I receive a very small percentage from each item you purchase via these link, which is at no extra cost to you. If you are thinking about purchasing the book, please think about using one of the links. All money received goes back into the blog and helps to keep it running. Thank you.
Like us on Facebook – Tweet us on Twitter – Pin us on Pinterest – Join us on Instagram