Santa Post by Emma Yarlett – Book Review
Santa Post by Emma Yarlett – Book Review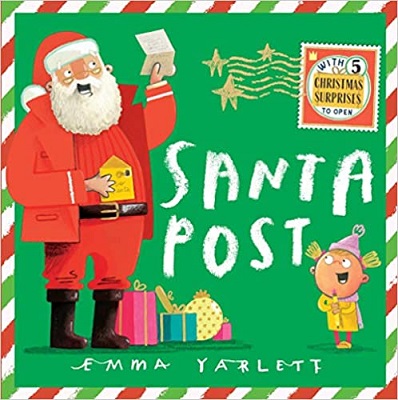 Santa Post
Author – Emma Yarlett
Publisher – Walker Books
Pages – 32
Released – 5th November 2020
ISBN-13 – 978-1406392197
Format – hardcover
Review by – Stacey
Rating – 5 Stars
I received a free copy of this book.
This post contains affiliate links.


An irresistible festive follow-up from award-winning author-illustrator Emma Yarlett, with hilarious letters and parcels to open.
Santa receives post from children all over the world. But when Amy sends him a letter, he just can't work out what she wants as her gift. Will Santa manage to find Amy the right present in time for Christmas Eve?
This joyous story sparkles with Emma Yarlett's vibrant illustrations and quirky humour.

Little Amy wrote a last-minute letter to Santa, unfortunately, it landed in his fireplace whilst the fire was burning and some of the words were burnt off, the most important one being what she wanted for Christmas.
With just a few days to go until Christmas Eve Santa started to panic, he needed to work out what she wanted and so he asked his elves to help. The elves were all busy preparing the presents and only had one elf spare, would his idea be what Amy wanted? Santa didn't agree and so he went on to ask other creatures who all had their own unique ideas, but would any of them be truly what Amy wanted for her Christmas Present?
Santa Post is an amazing book that is a lot of fun and has plenty of laugh-out-loud moments, especially at the 'parcels' that are within the book that you lift the flaps to open, I think the elf's idea of what Amy wanted for her present was hilarious!
The book is adorned with full-page bright and colourful illustrations that add depth to the amusing plot. The text has been written as if it is handwritten and I love it as it gives the book a more personal feel to it.
Children not only get a fabulous story but they also get to interact with the book with the five Christmas Surprises to open. The book is not only joyful it is heart-warming too as it shows how much Santa cares about the children and the lengths he will go to for the perfect present.
This is a festive book that will bring a smile to a child's face and a must-read for this time of year.
Book Reviewer – Stacey
---
Purchase online from:
---
About the Author

Emma Yarlett is an award-winning author, illustrator and typographer.
Emma's bestselling book series Nibbles has sold over half a million books across five continents, won numerous awards and accolades and has nibbled it's way onto the bookshelves and imaginations of children across the world. Emma's self-penned picture books Orion and the Dark, Sidney Stella and the Moon and Poppy Pickle have also achieved global success, won numerous awards and been adapted into theatrical plays and other media.
Emma studied illustration at Falmouth University and graduated with first class honours in 2011. She began work on her first self-penned picture book Sidney, Stella and the Moon whilst still studying at university.
Emma now lives in Falmouth, Cornwall with her husband Alex.



---
What did you think of Santa Post? Share your thoughts in the comment section below!
---
The above links are affiliate links. I receive a very small percentage from each item you purchase via these link, which is at no extra cost to you. If you are thinking about purchasing the book, please think about using one of the links. All money received goes back into the blog and helps to keep it running. Thank you.
Like us on Facebook – Tweet us on Twitter – Pin us on Pinterest