Shaped Animals by Sayeh Stone – Book Review
Shaped Animals by Sayeh Stone – Book Review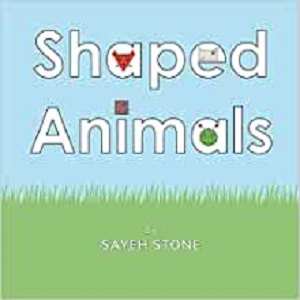 Shaped Animals
Author – Sayeh Stone
Publisher – Austin Macauley
Pages – 28
Release Date – 30th September 2016
ISBN-13 – 978-1786125811
Format – ebook, paperback, hardcover
Reviewer – Stacey
I received a free copy of this book
Post Contains Affiliate Links

Shaped Animals is a great way to enjoy learning and remembering maths and shapes through storytelling.
Meet Triangle Tiger who goes on the search to find other shaped animal friends to join his party. On this adventure, you will get to learn about the four main basic shapes through the animals explaining and introducing themselves.

Meet Triangle Tiger, with his three points, sides and angles. He has just moved to the jungle and is throwing a party to meet some other jungle animals, as he would like to make some new friends.
So off he goes in search of them. On his journey he meets Square Snake, Circle Caterpillar, and Rectangle Rhino. Together they become firm friends, and all have an enjoyable time at the party.
This book is a lot of fun. It has a great educational plot, brightly coloured, full size illustrations, and different shaped animals, what more could a young child want from a beginners maths book.
The aim of the book is to reinforce children's knowledge of the four basic shapes, by creating an amusing way for the kids to remember what they each look like. At the bottom of the page on which each different animal is introduced, there is also a box explaining harder mathematical words, such as parallel, right angle, circumference.
Shaped Animals is a lovely sweet story that will capture children's imaginations. It would work well as a solo, as well as a class read.
Book reviewed by Stacey
Purchase Links


Sayeh has sparkle and presence… and most certainly has a lively, vivid imagination which has been expressed through her creativity all her life, whether at work or in her personal life. She received numerous English and Drama awards at school and gained her university degree in Drama and Writing.
Moving from studies to the world of work, she has had a very successful career in the radio industry, in sales and promotions and in programming as a presenter.
Sayeh is also a freelance writer and has written for a broadsheet newspaper. The birth of her daughter paved the way for her next adventure: she got to act upon those half-finished stories filed away in the cabinet, and created new ones when she got time – predominantly when her daughter slept!
Sayeh lives with her wonderful loving family. Her life is full of love, laughs and silliness. She believes it's important to make education and learning fun, and hopes her books do this for children. She is looking forward to seeing her books in those little people's hands!
Author Links