The Writing Life of: Natasha Farrant
Natasha Farrant
This week I am thrilled to be interviewing author Natasha Farrant. Natasha Farrant will be sharing with us details of her writing life, telling us all about her latest book 'Voyage of the Sparrowhawk', which was released on 3rd September 2020 and answering a few fun questions too. This post contains affiliate links.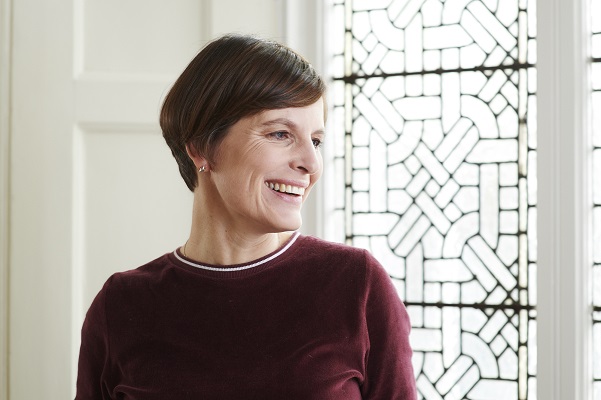 I was about six years old when I first read a story independently, in a sunlit classroom of the Lycée Français in London's Cromwell Road. I remember clearly how the world around me fell away as I was transported into the pages of the book, to a castle garden in another country, another time. From that moment, I only ever wanted to be a writer.
It took me a while. After leaving university, I went to work for a publishing company, got married, had children… I loved all of it, but a part of me still longed to write. I complained about this quite extensively, until one dear friend reminded me in a very no-nonsense way that "writers write". In other words, to get on with it.
The first book Natasha Farrant wrote was published in 2008 by Transworld, a dual-time romance for grownups. It was followed by another grownup book in 2010, but since then I have written exclusively for children and young people, and I have no plans to change this – perhaps because it brings me closest to that amazing thrill of magic I felt in that sunlit classroom when I first learned to read alone.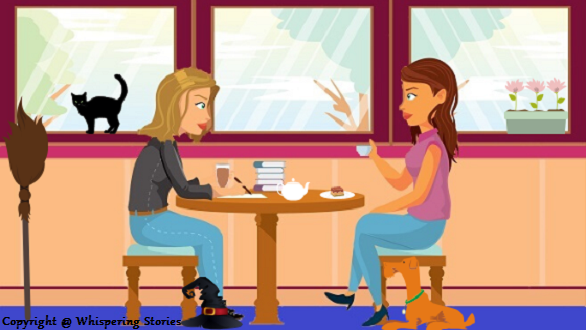 1) As a child did you have a dream job in mind?
Honestly? I wanted to be a writer from the moment I could read on my own. Reading felt like magic. I wanted to be a magician…
2) Who was your favourite childhood author (s)?
So many! But three stand out. First, Enid Blyton, for the adventures. I've ever read anyone like Blyton for making me believe that it's possible for me – yes, me! Little bookworm over there who wants to be a magician! – to have proper adventures rowing boats to my very own island, intercepting thieves, solving mysteries! I lived Blyton's books.
Then there was C S Lewis and the Chronicles of Narnia, which just blew my mind. The idea that there were whole other worlds! And finally there was L M Montgomery and ANNE OF GREEN GABLES. I don't think I have ever loved a fictional character like I loved Anne.
3) Was there a particular point in your life that you realised you wanted to be a writer?
See answer to question 1 above ?
4) What is your average writing day like? Do you have any special routines, word count, etc?
I have to combine writing with my day job as a literary scout, so there's a degree of juggling involved. I try to write every morning because that's when my ideas are freshest. Sometimes work takes over, and writing is just a little scribbling in the morning. Sometimes writing takes over, and I go away for a week or so to somewhere quiet where I can do nothing else.
Recently, I've started dialling in to a Zoom writing session every morning at 8.00, where sometimes as many as 200 writers work together in silence for 50 minutes. It sounds mad but it is so, so productive and it really sets the tone for the rest of the day.
5) How many books have you written? Any unpublished work?
I've published twelve books, two for adults, ten for children and young people. And yes, I have unpublished work! Lots and lots of rejected manuscripts before I got my first contract! (Teachers love it when I tell their pupils that, by the way – "you see, children, it's all about PER-SE-VERANCE." Not exciting, but so true).
6) Are you a plotter or a pantser?
I do so love the concept of a pantser… I'm a planner, definitely, but it's worth pointing out that the plan changes all the time throughout the process. More of a general direction than an ordnance survey map.
Concerning your latest book: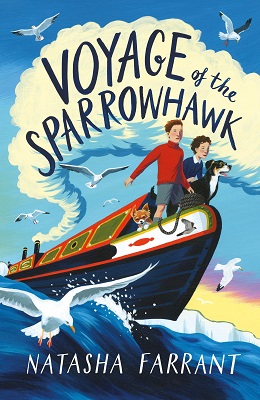 Voyage of the Sparrowhawk
Author – Natasha Farrant
Publisher – Faber & Faber
Pages – 368
Release Date – 3rd September 2020
ISBN 13 – 978-0571348763
Format – ebook, paperback

In the aftermath of World War One, everyone is trying to rebuild their lives. If Ben is to avoid being sent back to the orphanage, he needs to find his brother Sam, wounded in action and is now missing. Lotti's horrible aunt and uncle want to send her away to boarding-school (when she has just so successfully managed to get expelled from her last one!) And Clara, their young teacher, is waiting for news of her missing fiancé.
Just as they think they've found their feet in the new order, disaster strikes, and Lotti and Ben must get away. And so they hatch a plan – to cross the Channel on Ben's narrowboat and find Sam. And there's something in France that Lotti is looking for, too…
Buffeted by storms, chased by the police, Lotti, Ben, Clara and a growing number of dogs set out on an epic journey, on the search for lost loved ones and a place to call home.
---
7) How did you go about researching the content for your book?
There were two very distinct areas of research. One was the impact of World War 1 on civilian life in France and England, and the other was narrowboats. I'd visited the battlefields of northern France many times, and some of the (highly fictionalised) towns where Lotti and Ben go, so I drew on those memories, and then I did a lot of reading.
For the narrowboats, I visited a number of boats and museums, read a LOT about the canal network, and the lives of boat people, and how fast and far you could hope to go each day, and the difference between driving a boat on a canal and on the Thames. The most fun though was hiring a narrowboat for the weekend – so magical. So slow! So much harder to control than you might think… I hit another boat. I drove into the bank. I surprised myself by panicking every time I saw an obstacle. In the end, I left most of the driving to my husband and sunbathed and made us tea and poured wine. It was brilliant.
Also, I read a lot about puppy gestation…
8) How long did it take to go from ideas stage to writing the last word?
It's a strangely difficult question, because I'm never sure when the ideas start and when the last word is written, but I feel like it's about two years.
9) How did you come up with the title of your book?
Ha, ha! I didn't! I'm rubbish at titles. My title for the book was LOTTI AND BEN. My editor, Alice Swan, who is excellent at titles and at everything else, came up with a list and we agreed that The Voyage of the Sparrowhawk was the one. Then she removed the first "the" and it was even better.
10) Can you give us an insight into your characters?
They all, one way or another, need saving. Lotti from her horrible uncle and aunt. Ben and Elsie from being separated, the chihuahua Federico from captivity. Clara from her loneliness, Sam and Henri from their injuries, Albert from his sorrow about his son, Frank from his grief about his brother. They all need saving, and they all save each other. That's the beating core of the book for me.
11) What process did you go through to get your book published?
I have an ongoing relationship with Faber, and this was part of a rolling contract.
12) What's next for you writing wise?
A collection of short stories along the lines of my EIGHT PRINCESSES AND A MAGIC MIRROR, which came out last year. This one will be about trees. And then another adventure story, in the same general vein as CHILDREN OF CASTLE ROCK and VOYAGE OF THE SPARROWHAWK, but another standalone.
Fun Questions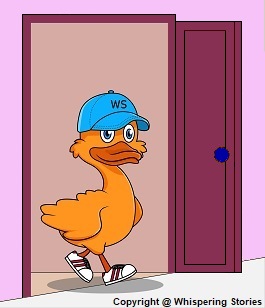 1) If you could have any super power for the day which would you choose?
I would have the superpower to restore all of the natural habitats which have been destroyed over the last forty years, then have fun watching as suddenly resprouting trees caused havoc… Important to stress also that once restored, though I wouldn't have the superpower anymore, the habitats would, and couldn't be destroyed again.
Amber. Though is she a sofa cushion, or is she a cat? Sometimes it's hard to tell, but here is a picture of her looking regal.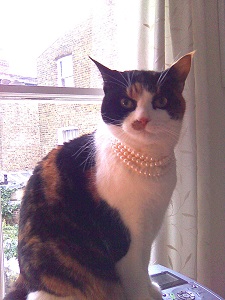 3) If you decided to write an autobiography of your life, what would you call it?
CITIZEN OF NOWHERE
4) Your book has been made into a feature film and you've been offered a cameo role, which part would you choose, or what would you be doing?
I would probably be driving a narrowboat into the bank of a canal and swearing a lot. Either that or eating a coffee éclair.
5) Where is your favourite holiday destination?
Anywhere I can walk down to a wild cold sea for a swim before breakfast.
6) A baseball cap wearing, talking duck casually wanders into your room, what is the first thing he says to you?
"Stop looking at me, you're supposed to be writing."
---
I would like to say a big thank you to Natasha Farrant for sharing with us details of her writing life and for a wonderful interview.
Author links




---
Share your thoughts on our interview with Natasha Farrant in the comment section below!
---
The above links are affiliate links. I receive a very small percentage from each item you purchase via these link, which is at no extra cost to you. If you are thinking about purchasing the book, please think about using one of the links. All money received goes back into the blog and helps to keep it running. Thank you.
Like us on Facebook – Tweet us on Twitter – Pin us on Pinterest