The Seed of Doubt by Irena Brignull – Book Review
The Seed of Doubt by Irena Brignull – Book Review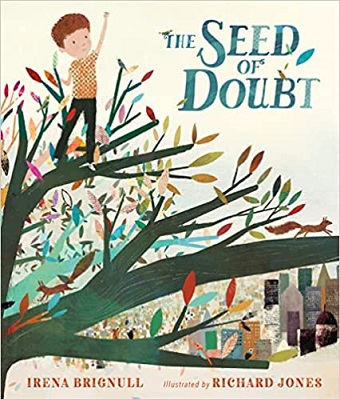 The Seed of Doubt
Author – Irena Brignull
Illustrator – Richard Jones
Publisher – 40
Release Date – 7th July 2022
Pages – 40
ISBN 13 – 978-1529504156
Format – Paperback, Hardcover
Star Rating – 4
I received a free copy of this book.
This post contains affiliate links.

Synopsis
A little boy dreams of a world beyond the farm where he lives – a world full of mountain ranges, oceans and cities, where he could do anything. But one day he plants a seed from which doubts start to grow. Instead of thinking of all that he could do, he thinks more of what he could not. Can he overcome his fears and chase his dreams?
We all know that when children are very young they believe that there is a world of opportunity in the big wide world and that they can be or do anything. In The Seed of Doubt, a little boy has big dreams and he tells them to his father each night. From climbing the tallest tree to visiting the moon, he wants to do it.
As the little boy ages, he starts to worry about his dreams and starts to put them to the back of his mind, that is until a bird drops a seed, and the boy plants it. A huge tree grows fast, at about the same rate as his doubts start to creep into his mind and he loses his 'I can do anything' attitude, but can he get it back again?
I love the moral behind this story as it tries to teach its young readers not to let go of their dreams and to let them know that doubts will come into their heads at some point.
The illustrations complement the story perfectly and I loved watching the boy climb the huge tree that has grown from the seed he planted. Although as a parent I was looking at the tree thinking if he falls he is getting seriously hurt!!
Overall, this is a remarkable book and one that will hopefully educate children about the doubts that will creep into their minds as they age and hopefully enable them to dream big and never stop dreaming.
---
Purchase Online:
---
The above links are affiliate links. I receive a very small percentage from each item you purchase via these links, which is at no extra cost to you. If you are thinking about purchasing the book, please think about using one of the links. All money received goes back into the blog and helps to keep it running. Thank you.