Daisy Jones and The Six by Taylor Jenkins Reid – Book Review
Daisy Jones and The Six by Taylor Jenkins Reid – Book Review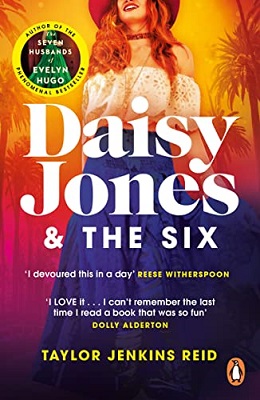 Daisy Jones and The Six
Author – Taylor Jenkins Reid
Publisher – Cornerstone Digital
Release Date – 5th March 2019
Pages – 339
ISBN 13 – 978-1787462144
Format – ebook, paperback, hardcover, audio
Star Rating – 4
This post contains affiliate links.

Synopsis
Everybody knows Daisy Jones and the Six.
From the moment Daisy walked barefoot on to the stage at the Whisky, she and the band were a sensation.
Their sound defined an era. Their albums were on every turntable. They played sold-out arenas from coast to coast.
Then, on 12 July 1979, it all came crashing down.
They were lovers, friends, brothers. But they were also rivals.
This is the story of their legendary rise and irrevocable fall. A story of ambition, desire, heartbreak and music.
Everyone was there. Everyone remembers it differently. Nobody knew why they split. Until now…
Daisy Jones and The Six is a book that has been sat on my bookshelf for a couple of years, looking at me, wanting me to read it, so with this good weather we are currently having (and being the only one without Covid in my house), I decided now was the time to pick it up.
As I opened the book and read the author's note at the front and then the first few pages I was unsure what I was reading. Was Daisy Jones and the Six a real group from the 70s? I had to do some googling to discover that the book was entirely fictional.
It is unusual in the way the story has been executed in that it is told from various viewpoints as if the group and those that knew them were reliving the past in an interview, a sort of biography of them. It certainly comes across as very real and really works.
The group had its ups and downs, the members had their fair share of being pushed to their limits in all manner of aspects. It made for interesting reading until we got to why the group split up. This had been the big one that is pushing the book forward so I was a little disappointed it wasn't something much grander and explosive, but then would that have been in keeping with the tale coming across so real – I'm not sure.
It is a book that I passed the time with over a couple of hot days and one that when the Amazon Prime series is realised I will most likely watch but I can honestly say I wasn't a massive fan of the writing style as I struggled to feel what most of the members were feeling, I had no emotional connection and Daisy, well she was a young woman who was pig-headed, stubborn, spoilt, and very pretty which she used to her advantage in every aspect she could – but then this was the 70s!!
---
Purchase Online:
Taylor Jenkins Reid
Taylor Jenkins Reid is the New York Times bestselling author of Malibu Rising, Daisy Jones & The Six, and The Seven Husbands of Evelyn Hugo, as well as four other novels. She lives in Los Angeles.
Author Links:
---
The above links are affiliate links. I receive a very small percentage from each item you purchase via these links, which is at no extra cost to you. If you are thinking about purchasing the book, please think about using one of the links. All money received goes back into the blog and helps to keep it running. Thank you.