My Big Book of Transport by Moira Butterfield – Book Review
My Big Book of Transport by Moira Butterfield – Book Review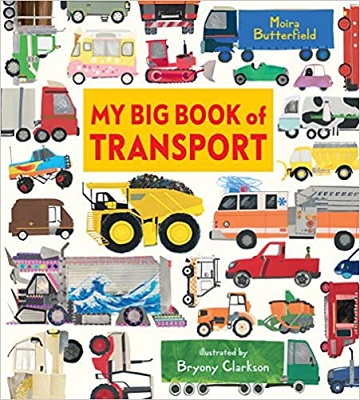 My Big Book of Transport
Author – Moira Butterfield
Illustrator – Bryony Clarkson
Publisher – Walker Books
Release Date – 14th October 2021
Pages – 64
ISBN 13 – 978-1406386844
Format – Hardcover
Star Rating – 5
I received a free copy of this book.
This post contains affiliate links.

Synopsis
A vibrant celebration of things that go, with a lively text from author Moira Butterfield and pictures from debut-talent Bryony Clarkson.
Come and hitch a ride in vehicles of every shape and size – from family cars to double-decker buses, chugging tractors to speedy supercars, and gigantic monster-trucks to noisy fire engines. With bounce-along rhythms and fascinating facts from author Moira Butterfield, and bright, lively pictures by rising star Bryony Clarkson, any single reading of My Big Book of Transport is sure to result in a victory lap or two!
My Big Book of Transport would be the perfect book for any young child who loves vehicles. The book is split into three categories – All About Cars, All About Trucks, and All About Wheels.
Within these categories are numerous subcategories such as – Superhero Supercar, Trucks of the World!, and Ride the Bus.
Each page showcases different cars, or something to do with them, such as tools a mechanic would need. One page right near the start caught my eye, 'The Car Parade' which is about the annual Houston Art Car Parade. I'd never heard of it and so took to social media to see some of the photos, there are some wacky cars to be seen!
The book features full-page illustrations throughout that are bright, colourful, and look amazing. I'm sure children will spend plenty of time on each page checking out everything that is happening in the drawings. The sentences are kept short and dotted around the illustrations and many contain noises that the vehicles make.
My Big Book of Transport is truly amazing. It is large in size and filled to the brim with different vehicles. I can see children being intrigued and spending hours looking through it and learning lots of fabulous information too, including things such as what certain trucks are used for, how many parts there are to a car, cars and the environment, etc.
---
Purchase Online:
Moira Butterfield

I wrote my first book when I was 8 years old. I glued photos of my cats in a blank book and wrote about them, too. Now I am an internationally-published children's author commended by the Library of Congress for my work encouraging children to read.
I write in a room between a deli and an art gallery on a small town street. I can see families walking by, and I can hear children laughing and playing. It helps me to remember what exactly I'm doing this for – creating books for families all over the world to use together, and helping children to love words.
Author Links:
---
Share your thoughts on My Big Book of Transport in the comment section below!
---
The above links are affiliate links. I receive a very small percentage from each item you purchase via these links, which is at no extra cost to you. If you are thinking about purchasing the book, please think about using one of the links. All money received goes back into the blog and helps to keep it running. Thank you.