Going to Beautiful by Anthony Bidulka – Book Review
Going to Beautiful by Anthony Bidulka – Book Review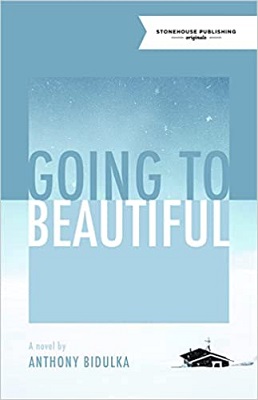 Going to Beautiful
Author – Anthony Bidulka
Publisher – Stonehouse Originals
Release Date – 1st May 2022
Pages – 300
ISBN 13 – 978-1988754352
Format – Paperback
Star Rating – 5
I received a free copy of this book.
This post contains affiliate links.

Synopsis
International chef Jake Hardy has it all. Celebrity, thriving career, plenty of friends, a happy family and faithful dog. Until one day when a tragic accident tears it all apart.
Struggling to recover, Hardy finds himself in a strange new world–a snow-swept prairie town that time forgot–a place where nothing makes sense. Cold is beautiful. Simple is complex. And doubts begin to surface about whether Jake's tragedy was truly an accident after all. As the sun sets in the Land of Living Skies, Hardy and his glamourous, seventy-eight-year-old transgender neighbour find themselves ensnared in multiple murders separated by decades.
In Bidulka's love letter to life on the prairies he delivers a story of grief and loss that manages to burst with joy, tenderness and hope. Redolent of his earlier works, Going to Beautiful brings us unexpected, under-represented characters in settings that immediately feel familiar and beloved. Beautiful–a place where what you need may not be what you were looking for.
'Going to Beautiful' is the latest work from the pen of Canadian-based author, Anthony Bidulka and will be released in May 2022. I assume the cover may well be different to my advance reading copy.
The reason I selected this novel from our to-be-read catalogue was its intriguing title. Surely 'beautiful' is an adjective? Not in this case, it's a proper noun. Beautiful is a small semi-abandoned prairie town near Saskatoon in Saskatchewan, Canada. The school has long gone with younger families choosing to move to the nearby city, the one convenience shop is shut due to the owner being poorly and the nearby convent has but a single nun left. The post office may well close down soon and Ming's restaurant is now the hub of community life.
We see all the action through the eyes of Jake Hardy, our main protagonist, and the story is written in the past tense with chapters of even length. Jake and his neighbour, Baz, find themselves drawn to the town as the result of a tragic accident. Thereafter they meet and get to know Beautiful's few remaining inhabitants and their journey takes them on a voyage of discovery not only about the place and some crimes committed many years previously, but also about themselves.
After a strong start, the author builds layer upon layer of the developing story through clever descriptions of the surroundings and just enough action to keep the reader completely engaged. The elderly townsfolk are a tight knit community of Ukrainian descent, yet they take the outsiders from Toronto to their hearts.
It is refreshing to find an author who's brave enough to break through ageist barriers and create almost an entire cast of older characters. Jake is a fifty-five year old celebrity chef with a fashion-designer husband of thirty years and together they have a grown up son. Baz is in her seventies. She has a bold personality, loves colourful clothing and has a constant need for alcohol. She's a proud transgender woman with a tremendous capacity for love. She is also a strong foil for Jake in her determination to assist him in his search for answers.
Some sensitive topics are explored through a mixture of moral conscience, gentle awakening, tolerance and a smattering of humour. This isn't really a whodunit but that's not to say there isn't a twist or two as the tale wends its way to a conclusion.
This is a delightful book which should offend no one but will hopefully leave the reader satisfied by its uplifting ending. I have no hesitation in awarding five stars.
---
Purchase Online:
Anthony Bidulka
In 1999 Anthony Bidulka left his career as a corporate auditor to pursue writing and never looked back. His books have been nominated for several awards and Bidulka was the first Canadian to win the Lambda Literary Award for Best Men's Mystery.
When he isn't writing or busy volunteering on boards, Bidulka loves to travel the world, collect art, walk his dogs, obsess over decorating Christmas trees (it's a thing) and throw a good party. His motto: life is short, so make it wide!
Author Links:
---
Share your thoughts on Going to Beautiful in the comment section below!
---
The above links are affiliate links. I receive a very small percentage from each item you purchase via these links, which is at no extra cost to you. If you are thinking about purchasing the book, please think about using one of the links. All money received goes back into the blog and helps to keep it running. Thank you.