The Shadow Man by Helen Fields – Book Review
The Shadow Man by Helen Fields – Book Review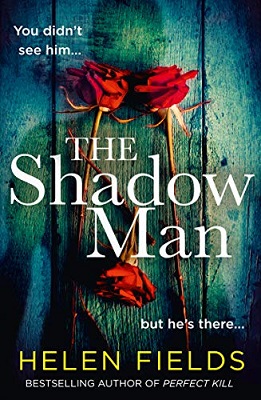 The Shadow Man
Author – Helen Fields
Publisher – Avon
Pages – 400
Released – 4th February 2021
ISBN-13 – 978-0008379308
Format – ebook, paperback, audio
Rating – 5 Stars
I received a free copy of this book.
This post contains affiliate links.


Synopsis
He collects his victims. But he doesn't keep them safe.
Elspeth, Meggy and Xavier are locked in a flat. They don't know where they are, and they don't know why they're there. They only know that the shadow man has taken them, and he won't let them go.
Desperate to escape, the three of them must find a way out of their living hell, even if it means uncovering a very dark truth.
Because the shadow man isn't a nightmare. He's all too real.
And he's watching.
The Shadow Man is a creepy and all too realistic thriller, set in Edinburgh, that will have you on the edge of your seat wondering what dying Fergus is about to do next. He has this belief that to please his deceased mother before he dies he needs to be married and have children, however, he doesn't have time to go through the motions, so he takes things to the extreme and kidnaps his ideal family.
The plot is gripping and from Fergus's very first victim who doesn't do as he asks and ends up dead to the woman he kidnaps to become his wife and makes her pretend to marry him. To the two people he kidnaps to be his children, Twelve-year-old Meggy and Xavier who is disabled. His victims are just normal people, living their own lives not realising that he has been watching them and selecting the perfect time to pounce.
His three victims are locked in a windowless flat with no way to escape and no tools or furniture to break to make weapons from. They know that they have to play along with him as going against him could mean they end up dead.
On the outside is American Forensic Psychologist Connie who has been brought it to find the kidnapper and Detective Baarda who has been sent to Edinburgh to work with Connie on the case.
I absolutely adored the book. Fergus was pure evil and didn't care about anyone as long as he was getting what he wanted. Connie is a fabulous character who has a condition called achromatopsia, meaning she can only see in black and white. Her analysis was wonderful to watch and she has a great relationship with DI Baarda. His three victims were as I imagined they would be, scared, trying to survive but it was Meggy who stole the show with her attitude of she wasn't going to be locked in someplace forever, she needed to escape and she was willing to put her life on the line to get out.
Purchase Online From:
---
What did you think of 'The Shadow Man'? Share your thoughts in the comment section below!
---
The above links are affiliate links. I receive a very small percentage from each item you purchase via these link, which is at no extra cost to you. If you are thinking about purchasing the book, please think about using one of the links. All money received goes back into the blog and helps to keep it running. Thank you.
Like us on Facebook – Tweet us on Twitter – Pin us on Pinterest