I Invited Her In by Adele Parks – Book Review
I Invited Her In by Adele Parks – Book Review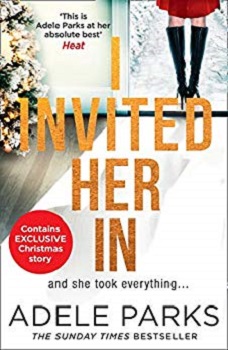 I Invited Her In
Author – Adele Parks
Publisher – HQ
Pages – 478
Released – 20th September 2018
ISBN-13 – 978-0008284619
Format – ebook, paperback, hardcover, audio
Reviewer – Nia
Rating – 4 Stars
I received a free copy of this book.
This post contains affiliate links.
I invited her in… and she took everything.'
When Mel hears from a long-lost friend in need of help, she doesn't hesitate to invite her to stay. Mel and Abi were best friends back in the day, sharing the highs and lows of student life, until Mel's unplanned pregnancy made her drop out of her studies.
Now, seventeen years later, Mel and Abi's lives couldn't be more different. Mel is happily married, having raised her son on her own before meeting her husband, Ben. Now they share gorgeous girls and have a chaotic but happy family home, with three children.
Abi, meanwhile, followed her lover to LA for a glamorous life of parties, celebrity and indulgence. Everything was perfect, until she discovered her partner had been cheating on her. Seventeen years wasted, and nothing to show for it. So what Abi needs now is a true friend to lean on, to share her grief over a glass of wine, and to have some time to heal. And what better place than Mel's house, with her lovely kids, and supportive husband…

I don't think I've ever read this kind of thriller before – it's more psychological and suspenseful than I expected, rather than the dark and gory thrillers I usually read.
The story takes place when an old university friend, Abi, moves in to stay with Mel and her family after a divorce, the perspectives alternate between the different characters so we get a wider view of the situation.
Both Mel and Abi are unreliable narrators, neither revealing much about their mutual pasts until the end, which keeps the reader on their toes.
I guessed quite early on what track this story was going to take, but that didn't make the read any less enjoyable or the ending any less surprising! Abi does some very questionable things, and you have to judge for yourself how awful/justified she is in the things that she does.
The characters are all excellently written, which is what made the first half of this book such an excruciating read for me – their experiences and behaviour made my skin crawl more than once because though this is an extreme scenario, you can imagine this situation having occurred at least once in the history of the world.
If you're a fan of thrillers but are looking for a break from gore and murder, and are looking for a nice classic case of 'people being awful to each other' – this will scratch that itch!
Reviewed by Nia
---
Purchase online from:
---
About the Author

I like to keep busy and am pretty flattered when I'm described as one of the most-loved and biggest-selling women's fiction writers in the UK, (who wouldn't like that?!) Three million copies of my UK editions have been sold and I'm translated into 26 different languages. I've published eighteen novels in eighteen years, and I'm lucky that they've all hit the bestseller lists.
I have written 16 contemporary novels and two historical ones, Spare Brides and If You Go Away, set during and after WW1. All my novels examines issues that are important to us all. I like to scrutinize our concepts of family, our theories on love, parenting and fidelity with (I hope) honesty and humour. Whatever period I set my novels I'm known for examining the thorny issues of the lives people lead with my trademark, up-front, tell-it-as-it-is style.
I passionately believe that reading is a basic right. I'm a proud Ambassador of The Reading Agency's Six Book Challenge, a scheme that encourages emerging adult readers who are becoming passionate about books. In 2008 I wrote a Quick Read, Happy Families as part of the celebrations of World Book Day, which went on to win Quick Read Learners' Favourite Award, as voted for by the public.
I am a judge for the Costa Book Awards and The British Book Awards which is a great privilege and an amazing experience. During my career I've lived in Italy, Botswana and London. Now I live happily in Guildford, Surrey with my husband, teenage son and cat. I guess, that's it, so far…





---
The above links are affiliate links. I receive a very small percentage from each item you purchase via these link, which is at no extra cost to you. If you are thinking about purchasing the book, please think about using one of the links. All money received goes back into the blog and helps to keep it running. Thank you.