Monster Doughnuts by Gianna Pollero – Book Review
Monster Doughnuts by Gianna Pollero – Book Review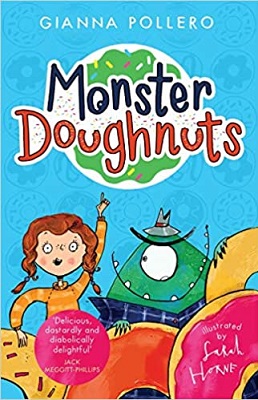 Monster Doughnuts
Author – Gianna Pollero
Illustrator – Sarah Horne
Publisher – Piccadilly Press
Release Date – 15th April 2021
Pages – 256
ISBN 13 – 978-1848129436
Format – ebook, Paperback, Audio
Star Rating – 5
I received a free copy of this book.
This post contains affiliate links.

Synopsis
Ten-year-old Grace likes doughnuts and cakes as much as the next kid – but they are also her secret weapon. Grace is a monster hunter who owns a bakery – and everyone knows how much monsters LOVE any kind of sweet treat! Just don't tell them about the secret exploding baking powder inside the doughnuts and the cookies …
When Grace's Monster Scanning Machine alerts her to the doughnut-loving, people-eating, board-game-playing cyclops Mr Harris, she realises she's about to face her biggest challenge yet …
Monster Doughnuts is a hilarious middle-grade children's book that follows sisters Grace and Danni who are monster hunters. Well, Danni runs the family bakery which includes the cakes that explode the monsters, whilst Grace is the one doing the exploding. Their parents have been missing for a few years since they went on a monster hunt together.
When one of the most feared Monsters makes an appearance in London looking to eat the Prime Minster, Grace sets out with a bag of Doughnuts to stop him in his tracks. Mr. Harris, a cyclops, is a feared creature. Not only because of his size, strength, and stench but also because he can't be destroyed. He can only be temporarily stopped and sent back to the world of monsters.
Monster Doughnuts might be a children's book but I absolutely adored it. I laughed so much and flew through the book in just two days. Not only are the words funny but the black and white illustrations throughout are amusing too.
It reminded me a little of Ghostbusters with monsters, and rather than proton packs they used bakery products to obliterate their targets. This is a full-on adventure story. It will have children giggling and although it contains plenty of monsters, don't worry there are no scary parts.
Fighting monsters by the power of sweet baked goods is such a genius idea. I'm now about to start book two, Monster Doughnuts: Cyclops on a Mission, I can't wait to be back with the sisters and following their battles once again.
---
Purchase Online:
Gianna Pollero

Gianna Pollero was born and raised in Kent but also spent a considerable amount of her childhood in northern Italy, where the majority of her family live.
She originally trained as a journalist and is currently a communications manager for a schools' academy trust in Kent. In 2017, she completed the Curtis Brown Online Writing for Children course. MONSTER DOUGHNUTS is Gianna's debut novel.
Author Links:
---
Share your thoughts on Monster Doughnuts in the comment section below!
---
The above links are affiliate links. I receive a very small percentage from each item you purchase via these links, which is at no extra cost to you. If you are thinking about purchasing the book, please think about using one of the links. All money received goes back into the blog and helps to keep it running. Thank you.