Marvin's Magnificent Moustache by James Hewison – Book Review
Marvin's Magnificent Moustache by James Hewison – Book Review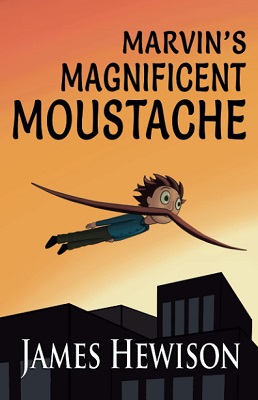 Marvin's Magnificent Moustache
Author – James Hewison
Publisher – Ontria Pty Ltd
Release Date – 29th July 2021
Pages – 36
ISBN 13 – 978-0648379348
Format – ebook, paperback
Star Rating – 4
I received a free copy of this book.
This post contains affiliate links.

Synopsis
An ingenious picture book about the ups and downs of having a magnificent moustache—perfect for children learning to celebrate and embrace what makes them and others unique.
Proud Marvin grows his moustache so long that, one day, he trips over it. Right in front of a crowd. And right into a into a garbage bin. Marvin's lovely moustache seems ruined and everybody laughs. He is so embarrassed.
A few days later a gust of wind lifts up his moustache and Marvin along with it. He can fly, until he crashes in his garden and his neighbour laughs at him.
Marvin is delighted about his special new talent, but he doesn't like people laughing at his moustache. So he only flies where nobody can see. But what happens when he has to choose between keeping his secret and saving a life?
A witty and wise story that brings entertainment and imagination to this essential lesson on the value of diversity and authenticity.
One day Marvin decides to grow a moustache, over the coming weeks and then years the moustache reaches all the way to the floor. Marvin likes it until he trips over it and lands headfirst in a bin and people laugh at him. He goes to cut it off but is stopped by a passing lady who helps him realise that his moustache can be wonderful and Marvin soon notices that it can be very special and freeing too.
In true James Hewison form, the author has created a fun, imaginative book that not only gives children a wonderful story to read but also shares with them empathy, diversity, and the ability to appreciate being different.
The book follows Marvin, who loves his moustache and enjoys being different, yet he becomes ashamed of it when people laugh at him. Just like in real life, children need to embrace their difference and hopefully realise that it is okay for others to be different too.
There are some amazing full-page bright and colourful illustrations throughout that bring the words to life and show Marvin and his moustache in all their glory. This is a wonderful book which I believe children will enjoy as much as I did.
---
Purchase Online:
James Hewison

James Hewison is an author of fiction for children and young adults. He was born in Darwin, on the north coast of Australia and spent his childhood swimming in crocodile inhabited waters, discovering extreme sports, and accumulating scars in other death-defying activities. When he wasn't risking his own life, he loved reading and writing about people who were.
When James had two children of his own, they began to enjoy stories too, and none more so than the tales that he conjured out of his mind at bedtime. Every night he told them new stories, weaving in new excitement and quirky twists.
When James's daughter was eight years old, she asked him to write a story so she could have it anytime, not just at bedtime. So he sat down with an idea for a twist on the classic fairy tale Jack and the Beanstalk. He thought five pages ought to be enough, but ideas wouldn't stop popping into his head. The story he wrote became his first novel, Behind the Twisted Fence.
And that was just the beginning.
Author Links:
---
Share your thoughts on Marvin's Magnificent Moustache in the comment section below!
---
The above links are affiliate links. I receive a very small percentage from each item you purchase via these links, which is at no extra cost to you. If you are thinking about purchasing the book, please think about using one of the links. All money received goes back into the blog and helps to keep it running. Thank you.