Drastic Plastic and Troublesome Trash by Hannah Wilson – Book Review
Drastic Plastic and Troublesome Trash by Hannah Wilson – Book Review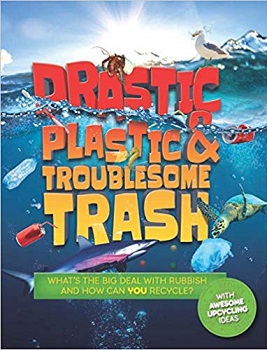 Drastic Plastic and Troublesome Trash
Author – Hannah Wilson
Publisher – Carlton Kids
Pages – 64
Released – 8th August 2019
ISBN-13 – 978-1783124794
Format – ebook, hardcover
Reviewer – Stacey
Rating – 5 Stars
I received a free copy of this book.
This post contains affiliate links.
We don't think twice before we buy something new and when we go to the shops we take the packaging for granted. But where does all our rubbish go to and how can we keep it under control so that it doesn't ruin our planet?
This thoughtful but incredibly fun book enters the mysterious world of recycling, discovering how materials such as plastic, glass, paper and electronics are made and recycled. It also looks at the many ways we can help to reduce the amount of waste we throw out, has suggestions and activities for upcycling and explains how recycling is crucial to preserving the beautiful and life-sustaining world we live in.

Drastic Plastic and Troublesome Trash has been published at a time when the world is concerned with how much rubbish we are throwing away, especially plastic and how that plastic is ending up in our oceans and seas.
Educating children about these issues is a great way to make future generations understand what is needed to help the planet and the people and animals on it.
The book is split into seven sections:-
Plastic
Glass
Paper
Metal
Cloth
Food
Future
Each section educates the child on the type of rubbish and what happens to it when you throw it away, plus there are helpful tips to stop producing so much waste, such as using bamboo toothbrushes instead of plastic ones. There are also questions for children to answer in each section too. Answers are at the back of the book alongside a glossary of terms to help children understand what some of the words mean.
There are many issues covered in the book asides the ones mentioned above, such as Palm Oil, Fossil Fuels, Gold Mining and more. Most children won't think of these as causing issues to the planet but it is always good to educate them.
This is a very interesting book that covers the subject in an easy to understand manner and with plenty of illustrations and photographs throughout to show what is happening and how we can reduce, reuse and recycle alongside changing the way we purchase and use items.
I learned a lot from this book and I'm sure that children will do too.
Book Reviewer – Stacey
---
Purchase online from:
---
About the Author
Hannah Wilson is an accomplished writer and editor of children's books who lives in Exeter, UK. Titles to her name include Flip the Flaps: Jungle Animals published by Kingfisher, Time for Bed, Tiger! from Templar, and Life-size Reptiles from Pavilion. She is also author of Carlton's Augmented Reality title iexplore Bugs, which won a Bologna Ragazzi Digital Award 2018.
---
What did you think of the book? Share your thoughts in the comment section below!
---
The above links are affiliate links. I receive a very small percentage from each item you purchase via these link, which is at no extra cost to you. If you are thinking about purchasing the book, please think about using one of the links. All money received goes back into the blog and helps to keep it running. Thank you.