Peanut Butter and Jelly by Ben Clanton – Book Review
Peanut Butter and Jelly by Ben Clanton – Book Review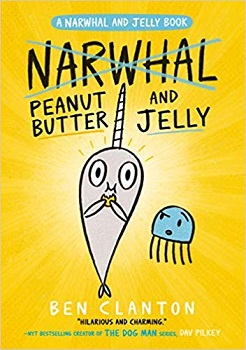 Peanut Butter and Jelly
Narwhal and Jelly Book Three
Author – Ben Clanton
Publisher – Egmont
Pages – 64
Released – 5th September 2019
ISBN-13 – 978-1405295321
Format – ebook, paperback
Reviewer – Stacey
Rating – 5 Stars
I received a free copy of this book.
This post contains affiliate links.
Narwhal and Jelly are back and Narwhal has a new obsession . . . peanut butter! He's so obsessed he even wants to change his name to . . . that's right . . . Peanut Butter! Ever-sensible Jelly isn't so sure that's the best idea, but is all for Narwhal trying new things (instead of just eating waffles all the time, no matter how delicious waffles are).
A wonderfully silly early graphic novel series featuring three short stories about trying new things, favourite foods and accepting who we are.
The perfect first book for young readers, just moving on from picture books, discovering the joys of friendship, working together and the power of imagination.
Review
Peanut Butter and Jelly is the third book in the Narwhal and Jelly series and what a series it is. It will make you laugh-out-loud and giggle uncontrollably.
In book three there are four stories, three about Narwhal and his friend Jelly the Jellyfish and one the continuation of their superhero story – 'Super Waffle and Strawberry Sidekick'.
The book has been beautifully illustrated and all the stories are amazing. Amongst the stories you will also find factual information, I never knew that Tiger sharks eat anything and I mean anything!
This collection of stories will have children laughing hysterically and enjoying every word. They are perfect for reluctant readers as children need to enjoy what they are reading and they will certainly enjoy the Narwhal and Jelly books.
Book Reviewer – Stacey
---
Purchase online from:
---
About the Author

I'm Ben! I'm a children's book authorstrator (best known for the Narwhal and Jelly books) as well as an editor-at-large for the Little Bigfoot imprint of Sasquatch Books. I have spent most of my time on this planet reading, drawing, playing basketball, gardening and eating waffles.
I live in Seattle, WA with my wife Kelsey (a photographer and designer), son, daughter, and a wild goldendoodle named gigi (aka Wookie).





---
The above links are affiliate links. I receive a very small percentage from each item you purchase via these link, which is at no extra cost to you. If you are thinking about purchasing the book, please think about using one of the links. All money received goes back into the blog and helps to keep it running. Thank you.