The Goose Road by Rowena House – Book Review
The Goose Road by Rowena House – Book Review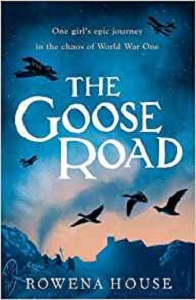 The Goose Road
Author – Rowena House
Publisher – Walker Books
Pages – 384
Released – 5th April 2018
ISBN-13 – 978-1406371673
Format – ebook, paperback
Reviewer – Stacey
Rating – 5 stars
I received a free copy of this book.
This post contains affiliate links.
France 1916. Angélique Lacroix is haymaking when the postman delivers the news: her father is dead, killed on a distant battlefield. She makes herself a promise: the farm will remain exactly the same until her beloved older brother comes home from the Front. "I think of it like a magical spell. If I can stop time, if nothing ever changes, then maybe he won't change either."
But a storm ruins the harvest, her mother falls ill and then the requisition appears… In a last-ditch attempt to save the farm from bankruptcy, Angélique embarks on a journey across France with her brother's flock of magnificent Toulouse geese.
World War One France, 1916. Angélique Lacroix is home on the families farm with her mother. News has just arrived from her brother Pascal who is fighting in Verdun that their father has been killed in battle. Angélique is not bothered by the news as she hated her father but quickly realised that the farm is now her brothers and she needs to look after it.
Unfortunately, after spending days cutting down the corn a storm arrives and near enough kills it all, then the army arrives and takes the families hens, pig, and cow. They now only have left their geese.
When Angélique's mother explains that her father had a large gambling debt before he died that needs to be paid off or the bailiffs are coming for the farm she makes a plan with her uncle Gustav to take the geese to market but not just any market, Frevent market near where General Foch is who will pay top money for her geese, trouble is it is a long way to get there and Angélique has never herded geese before.
Can she get all her geese safety to the market and save her farm from the bailiffs?
The Goose Road is a beautiful story about one young girl's determination to save her brother's farm so that when he returns from fighting in the war he has a home to come back to.
Angélique will do anything for her brother, especially after the way their father treated him, including beating him. He was a wicked man who only thought about himself and even in death, his gambling addiction is causing the family pain and hardship. Her uncle Gustav comes to stay for a few weeks to see how he can help but when the army takes the families animals to feed the soldiers their hands are tied, they need money and fast.
As well as looking after the farm, mainly single-handedly as he mother gets sick, Angélique is also confused about her feelings for Rene, a local boy who wants to marry her when she is old enough but his mother states he can not marry a peasant girl. Rene had polio as a child and is disabled but he wants to do his bit in the war before Angélique can persuade him not too he leaves in the night, will he ever return to her?
All the characters are beautifully written and easy to visualise. Even the time period was in focus all the way through. It's hard to imagine such hardship as well as a great war going on around you, plus being a child and having to do the work of adults, Angélique also has to dress as a boy for her journey as it is not safe for a young girl to be travelling so far even with her uncle.
This is an extraordinary book that certainly plays with your emotions. Who would have thought one young girl and a gaggle of geese could give such a spell-binding story, but they certainly can.
Book Reviewer – Stacey
---
Purchase online from:
---
About the Author

ROWENA HOUSE spent years as a foreign correspondent in France, Africa and then again in Europe before turning to fiction. She visited the WW1 battlefields of the Western Front repeatedly to research her prize-winning First World War short story, The Marshalling of Angelique's Geese (WAR GIRLS, 2014) and again for her debut novel, THE GOOSE ROAD (Walker 2018).
Her fascination with the Great War, the trenches, and the appalling artillery battles of the Somme and Verdun began at school when studying the war poets, Wilfred Owen in particular. As an adult, she experienced war first-hand as a Reuter's reporter in Ethiopia, and saw its terrible impact on civilians.
Now settled in the English countryside with her husband and son, Rowena holds a Master's degree in rural economics and another in creative writing, and mentors fiction writers alongside her journalism and storytelling.




---
What did you think of the book? Share your thoughts in the comment section below!
---
The above links are affiliate links. I receive a very small percentage from each item you purchase via these link, which is at no extra cost to you. If you are thinking about purchasing the book, please think about using one of the links. All money received goes back into the blog and helps to keep it running. Thank you.
Like us on Facebook – Tweet us on Twitter – Pin us on Pinterest
If you enjoyed our post please feel free to share it using the social media links below.