Love, Simon by Becky Albertalli – Book Review
Love, Simon by Becky Albertalli – Book Review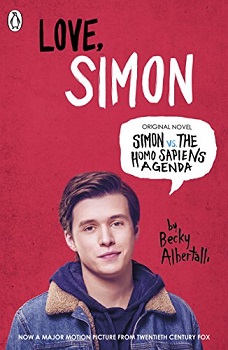 Love, Simon
Author – Becky Albertalli
Publisher – Penguin
Pages – 352
Released – 30th January 2018
ISBN-13 – 978-0241330135
Format – ebook, paperback
Reviewer – Nia
Rating – 5 Stars
I received a free copy of this book
Post contains affiliate links
Straight people should have to come out too. And the more awkward it is, the better.
Simon Spier is sixteen and trying to work out who he is – and what he's looking for.
But when one of his emails to the very distracting Blue falls into the wrong hands, things get all kinds of complicated.
Because, for Simon, falling for Blue is a big deal . . .
It's a holy freaking huge awesome deal.
One of the most exciting YA debuts, Love Simon is the must-have book of the moment. Dive into Simon's world before you see the film everyone's talking about!

This book has had rave reviews and has just been turned into a film, so despite not normally reading highschool YA books, I was more than happy to give this a go. The reason I usually steer clear is because going through high school once was more than enough for me!
I'm so glad that I did give this a go, I devoured the book whole and am feeling all warm inside still – it's a lot less angsty than you'd expect a teen coming-out story to be but without skimping on the drama, with well developed characters and wit. The writing style is utterly compelling and so easy to read.
I love that the parents in this book are embarrassing, as all parents of teens are required to be, but they're not negligent, stupid or hurtful as you often read in books. I really loved this because seeing supportive but slightly weird parents on the page is refreshing and probably truer to life than most other stereotypes!
I adored that the end of each chapter showed the e-mail correspondence between Simon and his mystery man, Blue. The intensity of their emotions and seeing them fall for each other through the lost art of love letters is addictive reading, along with their shared insecurities and uncertainty.
The characters are excellent and really did remind me of high-school politics and friendship dynamics. It's great to see the issue of homophobia in schools being tackled – as in, the administration deals with it rather than sweeping it under the rug and there are teachers that are prepared to fight for their pupils' right to not be targeted in school.
I can see why Love, Simon is an important book and so popular, I'll be recommending it to anyone and everyone from now on. It's a wonderful book about how coming out can be challenging (when it shouldn't be) but that things may work out better than you expect.
Reviewed by Nia
---
Purchase online from:
---
About the Author

Becky Albertalli is the author of the acclaimed novels Simon vs. the Homo Sapiens Agenda (film: Love, Simon), The Upside of Unrequited, and Leah on the Offbeat. She is also the co-author of What If It's Us with Adam Silvera. A former clinical psychologist who specialized in working with children and teens, Becky lives with her family in Atlanta.






---
Author photograph by Decisive Moment Events