The Twisted Tree by Rachel Burge – Book Review
The Twisted Tree by Rachel Burge – Book Review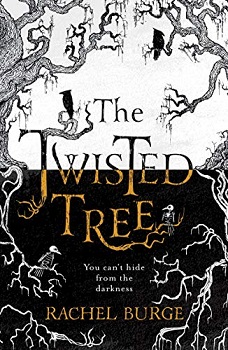 The Twisted Tree
Author – Rachel Burge
Publisher – Hot Key Books
Pages – 256
Released – 10th January 2019
ISBN-13 – 978-1471407765
Format – ebook, paperback, audio
Reviewer – Stacey
Rating – 5 Stars
I received a free copy of this book.
This post contains affiliate links.
Part ghost story, part Nordic mystery – a creepy and chilling tale steeped in Norse myth, perfect for fans of Neil Gaiman and Michelle Paver's DARK MATTER.
Martha can tell things about a person just by touching their clothes, as if their emotions and memories have been absorbed into the material. It started the day she fell from the tree at her grandma's cabin and became blind in one eye.
Determined to understand her strange ability, Martha sets off to visit her grandmother, Mormor – only to discover Mormor is dead, a peculiar boy is in her cabin and a terrifying creature is on the loose.
Then the spinning wheel starts creaking, books move around and terror creeps in . . .
Teenager Martha has unanswered questions that no-one wants to talk to her about. She was blinded in one eye after falling out of a tree at her Grandmother's house in Norway. After the event, and a stay in the hospital, her parents rushed her back home, never to see her Grandmother again.
She also wants to know why ever since she was partially blinded she tell things about people by touching their clothes. Fed up with not getting the answers from her mum she sets off to travel to Norway and ask her Grandmother. Unfortunately, when she arrives she discovers her Grandmother is dead and a teenage boy called Stig in her house, which is in the woods.
It soon turns out that something is lurking in the woods, something connected to the twisted tree in the garden. If they are to stay alive the pair will need to rely on each other and Martha's new skill of being able to see things with her blind eye.
The Twisted Tree is part Thriller, part Mythology and is very exciting and will have you on the edge of your seat. There are some moments which will creep you out and a few that will make you jump.
Martha is a young girl who is very mixed up. She is having a hard time not only being blind in one eye but that her eye is facing the wrong way so people stare at her. She is also having a hard time not understanding why she feels peoples emotions and memories when she touches their clothes. She heads off to Norway to get answers after discovering her mother was getting rid of the letter from her Grandmother.
Upon arrival she finds herself in an even more difficult position in that her Grandmother has recently died, a stranger is in her Grandmother's house and there is something wild in the woods killing animals and people. Something that even a bullet can't stop!
The book has so many levels to it. I've never really been a lover of mythology but it was weaved into the story perfectly and with ease and the book certainly wouldn't have worked without it.
This is a book not to be missed. I read it in a couple of sittings as I didn't want to put it down. Ms. Burge's writing and her plot had me gripped the whole way through and whilst I love a good thriller even I felt uneasy in places – Just like the author wanted.
Reviewed by Stacey
---
Purchase online from:
---
About the Author

Rachel Burge is a writer living in England.
During the day she works as a freelance copy writer but by night she writes creepy tales surrounded by candles, usually with a horror soundtrack playing.
She doesn't get out much, but can sometimes be found muttering plot ideas to herself whilst walking in the woods with her handsome black Labrador, Biff.
Rachel has always been drawn to the macabre. As a child, she would write stories and draw pictures that her mum would take away because they gave her nightmares.
She has seen a ghost, and to this day swears she once saw a doll's hand move by itself when she was a kid. Unfortunately, her first proper writing job was on The Dolls House Magazine, which meant handling dolls and styling them for photoshoots (oh the horror!).
Thankfully, dolls don't feature in her work – much.
Oh, and she also has a thing about crows. Don't forget the crows.






---
The above links are affiliate links. I receive a very small percentage from each item you purchase via these link, which is at no extra cost to you. If you are thinking about purchasing the book, please think about using one of the links. All money received goes back into the blog and helps to keep it running. Thank you.
Blog posts straight to email via Bloglovin – Like us on Facebook – Follow us on Twitter