The Ghost of Jamie McVay by R. G. Ziemer – Book Review
The Ghost of Jamie McVay by R. G. Ziemer – Book Review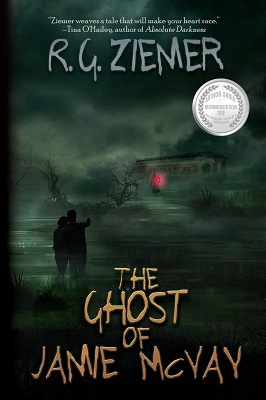 The Ghost of Jamie McVay
Author – R. G. Ziemer
Publisher – Black Rose Writing
Pages – 237
Released – 21st February 2019
ISBN-13 – 978-1684332151
Format – ebook, paperback
Review by – Nia
Rating – 3 Stars
I received a free copy of this book.
This post contains affiliate links.


Brian Krueger has a lot of problems: The death of his grandfather and his father's alcoholism have led to hard times and a move to a new town, where his nearest neighbor is a pyromaniac and a bully. Brian runs to escape his troubles, but it's on the gravel jogging path that he encounters the ghost of Jamie McVay.
Brian and his new friend, Sharon, investigate the ghost's origins. Clue by clue, secrets are revealed as the teens discover the truth behind Jamie McVay's quest for redemption. Along the way they must deal with teen issues such as school, sports, friends and rivals. Brian also struggles to reconcile with his father, while facing dangerous Pete the Pyro.
Can Brian and Sharon prevent catastrophe on Halloween night? Will the ghost of Jamie McVay find peace for his unquiet soul?

I enjoy a good ghost story and this one delivered on that count. Jamie McVay died following a train crash and his spirit has been seeking redemption for his role in the disaster ever since.
Brian has been uncovering his story as part of a school project after encountering McVay's haunting presence in the marsh one night, with the help of his new friend Sharon. They uncover clues in a variety of ways, using local museums and witness accounts to piece things together rather than stumbling across the story, which gave everything a more structured feel.
Brian is struggling to adjust to his new life in the suburbs after leaving his home in the city and his father's descent into alcoholism, though he's befriended by Sharon during the summer. I found it quite absurd that he is so dismissive of her and outright rude to her friends when he meets them at the start of term, learning that they're overweight and unpopular. I know that protagonists don't have to be altogether likeable but this seemed overly unkind and actually distracted me from the plot.
Brian has to deal with issues a lot of teenagers encounter; bullies, the pressure to be popular and behave a certain way but his ability to see spirits stands in the way of a normal life and he has to decide which is more important.
Despite being a middle grade/YA novel, I'd say that this book is easily appropriate for adults in term of language and doesn't speak down to younger readers. The ghost story element is a classic trope of a ghost trying to redeem themselves for their mistakes in life and had a satisfying ending.
Book Reviewer – Nia
---
Purchase online from:
---
About the Author

I was born and raised on the South Side of Chicago. As a young man I worked in construction, until a degree from U of I Chicago led to a teaching job in the suburbs. I finished an M.Ed. at National-Louis U., and ran a commercial construction business before turning back to higher education. I presently teach composition at the College of DuPage.
With my wife Dawn, I live on the West Branch of the DuPage River, where I enjoy canoeing, hiking and writing. I write short stories and poetry. Active in a number of writing groups, I contribute regularly to local journals and have been featured reader at literary evenings. My novel The Ghost of Jamie McVay was published by Black Rose Writing in 2019.


---
What did you think of The Ghost of Jamie McVay? Share your thoughts in the comment section below!
---
The above links are affiliate links. I receive a very small percentage from each item you purchase via these link, which is at no extra cost to you. If you are thinking about purchasing the book, please think about using one of the links. All money received goes back into the blog and helps to keep it running. Thank you.
Like us on Facebook – Tweet us on Twitter – Pin us on Pinterest