Hell to Pay by Dick Wybrow – Book Review
Hell to Pay by Dick Wybrow – Book Review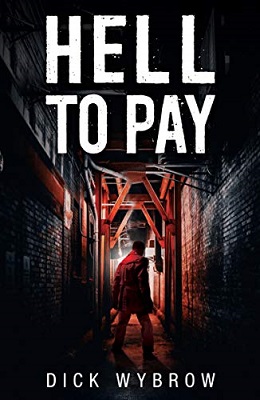 Hell to Pay
Hell Inc Book Two
Author – Dick Wybrow
Publisher – Dee Dub Publishing
Pages – 379
Released – 18th April 2020
ISBN-13 – 979-8638511609
Format – ebook, paperback
Review by – Clive
Rating – 4 Stars
I received a free copy of this book.
This post contains affiliate links.


The Actor is in trouble. The Running-From-the-Devil kinda trouble. Actually, he's now literary running from the Devil.
Having joined Raz on a quest to save that man's wife, The Actor saw first hand the power of the Crossroads.
So, in an attempt to save his ruined career, he does the unthinkable: the Actor makes his own deal with the Devil to become the "King of Hollywood."
Of course, he was tricked.
He needs Raz to help steal the contract back. To come up with a plan to do that, they'll need the gang back together.
But Anza, their brilliant planner, is now missing somewhere down in Mexico.
And, they've just gotten the news that their geriatric pilot, Uncle Jerry, was killed by an angry drug lord.
Their already impossible task has just become harder: the Actor is being hunted by a 19th-century gunslinger named Sally, who is hellbent on putting him down, making him an eternal slave to the Dark Lord.
Let the fun begin!
Again.

Hell to Pay is the sequel to Hell inc and the second in Dick Wybrow's Hell inc series. I have not read the first book but Hell to Pay stood alone for me and I did not feel that I lacked any knowledge from its predecessor.
I am not a great fan of stories about Ghosts or the supernatural, so I was not over excited about the storyline about The Actor's contract with the Devil or of the Angel angle but that did not diminish my enjoyment in reading this book. For me Hell to Pay is just a great comic road tale of exaggerated adventure and action.
The narrative is told in the first person when Raz is present but if he is not, then it is told in the third person. I believe that most of the disparate group of characters were also in the previous book but they make for an interesting and varied band. Some are a little over-the-top but they all bring their own talents and fragilities.
The various journeys and inevitable chases use almost every form of travel except rockets so we have cars, motorcycles, boats, planes, submarines and Roomba riding. (Read the book if you haven't heard of Roombas.) Whichever means of travel they are using it is all made to sound exhilarating.
If you are looking for meaningful messages there is an excellent storyline about social media with all the angles that we like to poke fun about; even though most of us know deep down that we cannot live our lives without it.
In summary, Hell to Pay may not be the deepest, most meaningful book that you will read but it will be one that you enjoy for its action, it's interesting characters and for the good laugh that it gave you. I have awarded four stars.
Book Reviewer – Clive
---
Purchase online from:
---
About the Author

Dick Wybrow is a Canadian author. His novels are mainly set in the US, where he grew up. A former stand-up comedian, Wybrow is a humor writer who crafts thrillers that incorporate elements of suspense, horror, mystery, science fiction and fantasy.
At the age of six, Dick was given his first book by his father. It was Wind in the Willows. Naturally, that put Dick off reading for several years.
After discovering Hitchhiker's Guide to the Galaxy by Douglas Adams, the love of reading returned. And with it came the compulsion to get lost worlds like Douglas had created.
Dick lives in Auckland, New Zealand with one wife and two cats.





---
What did you think of Hell to Pay? Share your thoughts in the comment section below!
---
The above links are affiliate links. I receive a very small percentage from each item you purchase via these link, which is at no extra cost to you. If you are thinking about purchasing the book, please think about using one of the links. All money received goes back into the blog and helps to keep it running. Thank you.
Like us on Facebook – Tweet us on Twitter – Pin us on Pinterest