White Rabbit, Red Wolf by Tom Pollock – Book Review
White Rabbit, Red Wolf by Tom Pollock – Book Review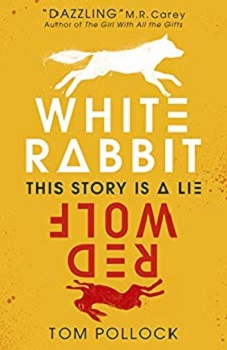 White Rabbit, Red Wolf
Author – Tom Pollock
Publisher – Walker Books
Pages – 400
Released – 3rd May 2018
ISBN-13 – 978-1406378177
Format – ebook, paperback
Reviewer – Stacey
Rating – 5 Stars
I received a free copy of this book.
This post contains affiliate links.
A taut thriller about murder, maths and the mind. Peter Blankman is afraid of everything but must confront truly unimaginable terror when his mother is attacked.
Seventeen-year-old Peter Blankman is a maths prodigy. He also suffers from severe panic attacks. Afraid of everything, he finds solace in the orderly and logical world of mathematics and in the love of his family: his scientist mum and his tough twin sister Bel, as well as Ingrid, his only friend.
However, when his mother is found stabbed before an award ceremony and his sister is nowhere to be found, Pete is dragged into a world of espionage and violence where state and family secrets intertwine. Armed only with his extraordinary analytical skills, Peter may just discover that his biggest weakness is his greatest strength.

This is one of those books that is hard to write a snippet of because you don't want to give anything away, but I'll try. Our narrator is Seventeen-Year-Old Peter Blankman. Peter has anxiety issues, he's a maths genius and constantly attacked by the school bully. When he has a bad 'episode' he eats and if he can't find food he eats whatever is to hand, this is how we begin the story with Peter sat in the larder at home with blood pouring from his mouth being comforted by his mum.
Anabel (Bel) is Peter's twin sister, she is older than Peter by eight minutes and those eight minutes mean everything to her. She is his 'big' sister. She is also his protector and low and behold the school bully if he attacks Peter whilst she is around.
Their mum, Dr. Blankman is a genius scientist working for a government agency. She has been nominated for an award and the twins are at the ceremony with her when Peter suffers from a massive panic attack and runs away, the next thing he knows is that a woman who states she works with his mother is trying to calm him down, his mum is on the floor bleeding from a stab wound and his sister is missing. He doesn't trust anyone but if he's going to find out what the hell is happening he's going to have to rely on himself and his numbers skills.
This is a book that plays with your mind and you do wonder if what you are reading is true or not, not helped by the fact that on the front of the book is the line 'This story is a lie'. Peter is a near perfect narrator. His voice comes across strong and I found myself instantly liking him. He is quirky, a little nerdy and has lots of issues, mentally.
White Rabbit, Red Wolf is written in alternating chapters from the past and the present, starting six years before now and moving forward in time, getting closer to the present as you read. I'm not often a fan of this type of book, but this worked really well and you always knew which time period you were in.
As the plot thickens, mysteries unravel and the many twists and turns begin to unfold. At times I was left stunned and then more importantly left with an urge to find out more and carry on reading. All I will say is that you will get to the end and think back about what you have just read and shake you head in disbelief. This is a book not to be missed, no matter how weird, unpredictable, and wacky it is.
Reviewed by Stacey
---
Purchase online from:
---
About the Author

Tom is a long-time fan of science fiction and fantasy, and has failed spectacularly to grow out of his obsession with things that don't, in the strictest sense of the word, exist. He studied Philosophy and Economics at Edinburgh University. He now lives and works in London helping to build very big ships.


---
The above links are affiliate links. I receive a very small percentage from each item you purchase via these link, which is at no extra cost to you. If you are thinking about purchasing the book, please think about using one of the links. All money received goes back into the blog and helps to keep it running. Thank you.