Deep Dirty Truth by Steph Broadribb – Book Review
Deep Dirty Truth by Steph Broadribb – Book Review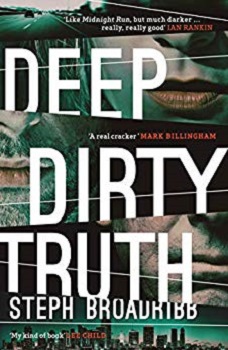 Deep Dirty Truth
Lori Anderson Book Three
Author – Steph Broadribb
Publisher – Orenda Books
Pages – 304
Released – 24th January 2019
ISBN-13 – 978-1912374557
Format – ebook, paperback
Reviewer – Stacey
Rating – 5 Stars
I received a free copy of this book.
This post contains affiliate links.
A price on her head. A secret worth dying for. Just 48 hours to expose the truth…
Single-mother bounty hunter Lori Anderson has finally got her family back together, but her new-found happiness is shattered when she's snatched by the Miami Mob – and they want her dead. Rather than a bullet, they offer her a job: find the Mob's 'numbers man' – Carlton North – who's in protective custody after being forced to turn federal witness against them. If Lori succeeds, they'll wipe the slate clean and the price on her head – and those of her family – will be removed. If she fails, they die.
With North due in court in forty-eight hours, Lori sets off across Florida, racing against the clock to find him and save her family. Only in this race the prize is more deadly – and the secret she shares with JT more dangerous – than she ever could have imagined. In this race only the winner gets out alive…
Brimming with tension, high-stakes jeopardy and high-voltage action, and a deep, emotional core, Deep Dirty Truth is an unmissable thriller by one of the freshest and most exciting voices in crime fiction.

Bounty hunter Lori Anderson is enjoying life with her family and trying to put the past behind her. Unfortunately, the Miami Mob Boss is not finished with her yet and she has a debt to pay. Snatched from the street after taking her daughter to school, Lori is given an ultimatum, die now and her family dies too, or do a job for the mob and they all walk free.
Lori doesn't have much choice and although the job is a tough one, finding the mob's numbers man, Carlton North, who is in protective custody with the FBI and about to give evidence against the mob and bring him home, Lori is sure she can pull the job off and save her family.
However, the job turns out to not be as straight forward as she first thought, can Lori deliver Carlton North and save her family or are the odds stacked against her too great?
Deep Dirty Truth is the third part of the Lori Anderson series and the first one from the series that I have read. Although it is number three it can be read as a standalone and there was enough information dotted throughout to be able to understand what happened in the past to lead up to the predicament Lori finds herself in.
When I began reading the first thing I noticed was how well Lori's voice came across. The book has been written in the first person, mainly from Lori's point of view, and she is not only one kick-arse female, but she also won't take any rubbish from people and she is fiercely protective of her family. She came across as such a genuine person you'd be forgiven for forgetting she is a fictional character.
The plot is fast-paced and there was something exciting happening on every page. The book makes you feel like you are having a pure adrenaline rush from beginning to end. It genuinely felt like I was holding my breath at times. Deep Dirty Truth is dramatic, dangerous and very impressive and I hope to go back and read the other two in the series soon.
Reviewed by Stacey
---
Purchase online from:
---
About the Author

Steph Broadribb was born in Birmingham and grew up in Buckinghamshire. Most of her working life has been spent between the UK and USA. As her alter ego – Crime Thriller Girl – she indulges her love of all things crime fiction by blogging at crimethrillergirl.com, where she interviews authors and reviews the latest releases.
She is also a member of the crime-themed girl band The Splice Girls. Steph is an alumni of the MA in Creative Writing (Crime Fiction) at City University London, and she trained as a bounty hunter in California, which inspired her Lori Anderson thrillers.
She lives in Buckinghamshire surrounded by horses, cows and chickens. Her debut thriller, Deep Down Dead, was shortlisted for the Dead Good Reader Awards in two categories, and hit number one on the UK and AU kindle charts. My Little Eye, her first novel under her pseudonym Stephanie Marland was published by Trapeze Books in April 2018.




---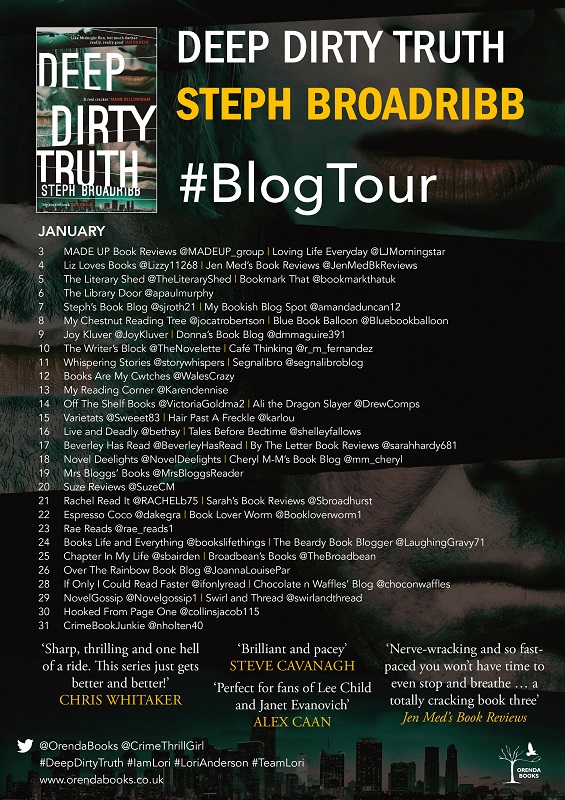 The above links are affiliate links. I receive a very small percentage from each item you purchase via these link, which is at no extra cost to you. If you are thinking about purchasing the book, please think about using one of the links. All money received goes back into the blog and helps to keep it running. Thank you.