A Day in the Life by Theodore Ficklestein
A Day in the Life by Theodore Ficklestein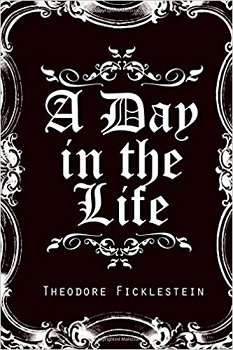 A Day in the Life
Author – Theodore Ficklestein
Publisher – Createspace
Pages – 212
Released – 25th August 2017
ISBN-13 – 978-1547048939
Format – ebook, paperback
Reviewer – Abby
I received a free copy of this book
Post contains affiliate links
Meet a YA narrator who hates YA books. A Day In The Life is Theodore Ficklestein's debut novel about Nickolas Crippp, a college student finding his way in the world. Although Nick won't admit it, he is the main focus to a young adult book that follows him from his home to college to the city, where he wants to attend an open mic.
Along his path, he encounters a teacher who asks about the apocalypse, a drunk on the train and two friends who feel writing isn't Nick's strong point, among others. Nicks soon finds out that the funniest things in life aren't that funny at all, and the greatest comedians never go up on stage.
As he goes through his day, one oddball character at a time, Nick starts to question if the comedy club he dreams of being in, is really for him. Should he be who he wants to be? Or who the world thinks he should be? Neither of which, he is entirely sure about.
A personal journal of self-discovery through the eyes of a youth yearning for meaning in a meaningless world; Nick learns that in life, the joke is on you.
Review
Theodore Ficklestein's A Day in the Life somewhat reluctantly follows teenager Nick through 24 hours of his existence, from home to school, back home and to the city.
Told in first person, Nick begins by announcing what he hopes we all know: 'Every story has a beginning, middle, and end.' Except, by following Nick's life in such a self-aware way, I'm not sure this particular story has…
He also uses the introduction to inform us that he's an 'inexperienced writer' and that he doesn't even read: 'I skim most of the time.' Then, we get the first funny: 'I skimmed somewhere that sarcasm is hard to understand in written form, so I suggest buying the audio of this so that you can catch it when it pops up'.
So, Nick is funny. He wants us to know he's funny. It's his thing. In a very self-reflexive way, he wants us to know he's going to be telling a very sarcastic version of events in his own story. Does that mean it's not accurate? As he continues, 'I think I am a pretty reliable narrator. I never lie. Then again, I may have lied there.'
And to the genre? Well, according to Nick, it's not your typical YA book, all romance and self-discovery. Instead, it's only a YA book 'because I am that age'.
Essentially, even just from the introduction, Nick throws us off the scent of your typical day-in-the-life narratives. You don't even know his name is Nick until much later in the story!
Writing isn't even his raison d'être, it's comedy. He wants to become a comedian. Once you learn this, A Day in the Life suddenly gets that much more interesting. The novel takes the mundane and seeks out the quirks. From the other comedians-in-training at comedy club The Scraper, to thoughts about himself – 'Most days I look like shit. Today wasn't much different' – to fellow teachers and students.
We follow Nick as he wakes up after a bad night's sleep, goes to school, returns home and eats leftover Chinese food, then gets the train to an open mic. The plot, however, doesn't seem the most important part of the novel. For me, it didn't feel like much actually happened, other than Nick's odd encounters with other people as he went through the day.
The parts I found most interesting were the reflections on himself, which feel very typically YA to me. Points include: 'I'll be honest with you; I don't even want to meet myself', and, the inexplicably funny: 'For some reason, my car is the cleanest thing in my life.'
It also turns out he lives in an area that isn't exactly the most thriving of places for teenagers to live. With his sarcastic mindset, hatred for school, bleak surroundings and awkwardness around others, his comedy career could be either boom or bust.
The last part of the story, 'City', helps us to find out more about the local comedy circuit that Nick finds himself in, as he takes the train to the open mic night in New York City. This is by far the most action-packed part of the day as his route and his destination is not straightforward. We also witness an unexpected act of kindness from Nick here as he helps someone keep dry from the sudden downpour.
Overall, Nick is a very observant writer, from his descriptions of people and places, to exploring his own thought processes. This is essential in a novel that doesn't feel very pacey. His level of sarcasm is always dialled up to high too. The end of the novel is very satisfyingly Nick, but unexpected, since we're to expect, from the introduction, that there will be an end.
For fans of YA, A Day in the Life provides some relief from the well-worn coming of age, get the girl style stories. That doesn't mean to say there isn't a sense of development or journey in Nick's story; just that the tone set from the start means you're not sure what you're going to get until the very end. I'm sure many young adults can relate to aspects of Nick's journey – from not fitting in and self-doubt to moments of brilliance and kindness.
Reviewed by Abby

---
About the Author
Theodore Ficklestein is a writer of various poetry books, novels and multiple blogs.
Instead of giving you a long ten page story of my life, how I was born here and this writer inspired me, because I don't really read any of those when I go to other people's sites, I would much rather hope you try to read a book or two of mine and maybe enjoy some of the work I have produced.
If reading books isn't really your thing, then you can check out one of my blogs. (via website link below) If you avoid reading altogether, (which I don't advise) then you can listen to my podcast. As always thanks for reading (and listening).


---