Brownies and Books – Chummys Bakery
Brownies and Books – Chummys Bakery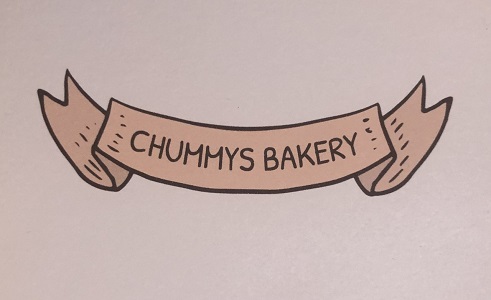 AD – Are you a snacker whilst reading? Which do you prefer – Sweet or Savoury? I must confess that I am a nibbler whilst reading and the more in-depth the novel the more I nibble. I like anything from nuts to sweets. My favourite treat though has to be cakes and brownies.
So when I spoke to the wonderful team at Chummys Bakery, an online shop that specialises in Brownies, Blondies, Cookies, Cupcakes, and Rocky Road and they asked me would I like to sample their postal brownies, well who was I to say no!
The whole experience with the bakery was straightforward from placing an order to being able to choose a delivery date. Then on the morning of the delivery, I received a one-hour slot. I couldn't ask for more. And believe me, the smell when opening the box was sensational. Plus, looking at the way they were packaged made me feel like Chummys really cared about their products and my experience too.
So What Was in the Box?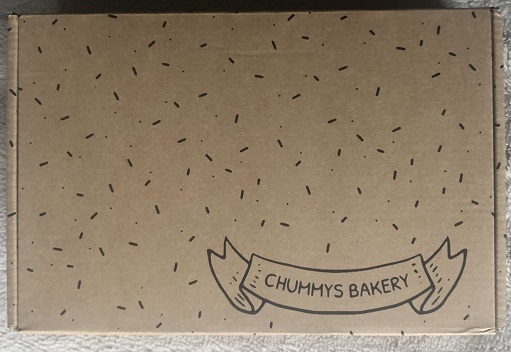 There were 6 brownies in my postal box, you can also order a box of 12. The postal box comes complete with six different flavours – Salted Caramel, Nutella, Ferrero Rocher, Kinder Bueno, Lotus Biscuit, and Triple Chocolate. Though they do have a mixed brownie option which gives you a choice of 12 flavours if you prefer.
The brownies come delivered and wrapped in protective paper that keeps them fresh during delivery. Once arrived the brownies will keep longer if you placed them in an air-tight container or a cool dry place and they can stay fresh for up to 2 weeks. Though you can freeze them and they will last up to 3 months.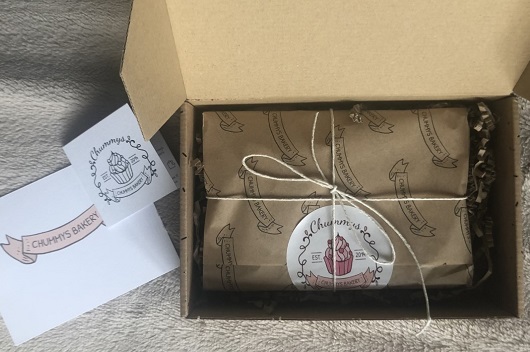 Check out the different brownies I received below and which genres I would pair them with – Plus, I've added some serving suggestions which I love to give my brownies that added extra.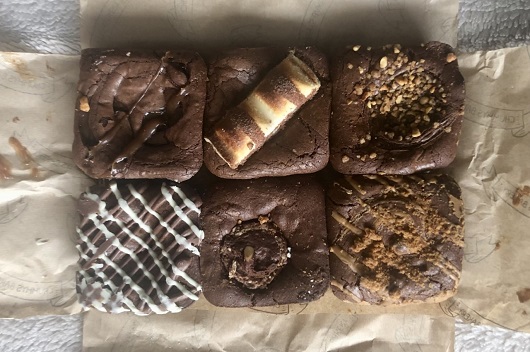 Salted Caramel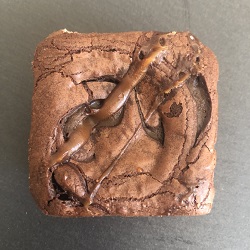 The Salted Caramel Brownie gives you that rich chocolatey hit first, then slaps you with the sharpness of the salt and the sweetness of the caramel. I would say this would be perfect for your thriller read. It is intense, though not too sweet or bitter, and would go perfectly with a book that meets those specifications.
I found that this one didn't melt too much in my hands so it was perfect for just picking up and biting, although if you are worried about chocolate fingerprints, wrap a bit of greaseproof paper around it and enjoy. Just make sure you put it down when you get to any gory bits though!!
---
Triple Chocolate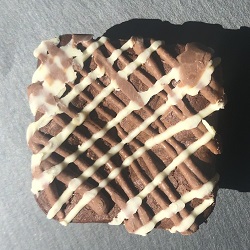 Now Triple Chocolate for me is a classic and what could be a better compliment for a classic book.
Whether you love Pride and Prejudice, Jane Eyre, A Tale of Two Cities, etc this Triple Chocolate Brownie will reign supreme in the snacks department. With its hit after hit of chocolate, you might want to slice it into smaller chunks and savour the sweet flavour as you work your way through a book that has stood the test of time, just as I can see this brownie doing.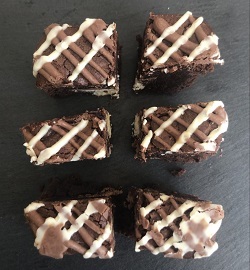 ---
Ferrero Rocher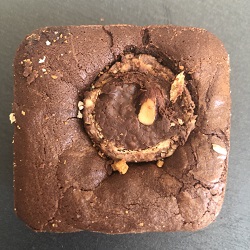 With its numerous layers and textures, the Ferrero Rocher is the crème de la crème of chocolates and this brownie is quite simply gorgeous and is the ideal accompaniment to a Literary Fiction novel.
With the richness of the Ferrero Rocher and the brownie, you are in for a real treat, especially if you have a sweet tooth.
Like your brownies that little more relaxed on the sweetness side? Why not heat your brownie, just slightly, and then add a good dollop of Crème Fraiche. The fresh, tanginess of the cream counter-balances the sugar hit from the brownie and leaves you pleasantly satisfied, hopefully just like your read.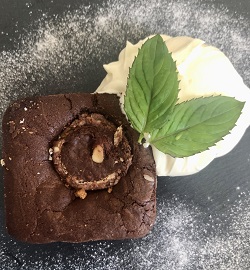 ---
Nutella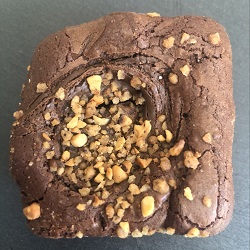 Like your books to give you a good laugh, then what about something nutty to go with your nutty, humorous read in the form of a Nutella Brownie.
The brownie has a superb blend of crunchiness and sweetness. The combination is really something and I rarely eat Nutella but this brownie was so delicious. What is even more delicious is heating it slightly and adding a scoop of vanilla ice cream. The heat from the brownie will start to make the ice cream melt, and you are left with a velvety, smooth taste that works perfectly with the nuttiness.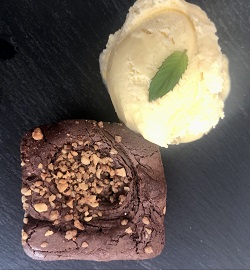 ---
Lotus Biscuit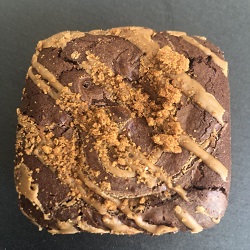 Now for me, Lotus biscuits are the top dogs of the biscuit tin. The caramel and spices flavour works perfectly and do you know what, so does the brownie and Lotus biscuit combination. It blends in such an exquisite way that I could only pair this book with a good romance novel.
Why not add some squirty cream and strawberries for the real romantic touch. The flavours don't sound like they work but believe me the silky smoothness of the cream, the tarty, the ripeness of the strawberries, and the delicate flavours in the brownie give the combination a little taste of luxury and had me wanting more.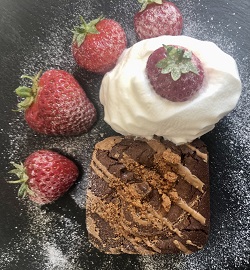 ---
Kinder Bueno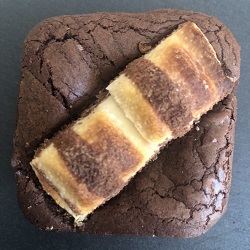 Ah, the Kinder Bueno. The perfect choice for little ones (though I love a Kinder Bueno too). This would be a real treat for little mouths to go with their favourite books, though maybe get them to put their book down in between bites and have a wet wipe on hand! This beautiful-looking brownie tastes as good as it looks.
I couldn't help pairing it with another of my favourite snack of mine, marshmallows. I heated it in the microwave for a few seconds, after I'd added some marshmallows, so they could melt too – what a combination. Just yummy.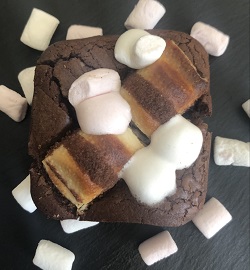 ---
So there you have it my 6 genres of books to go with the 6 flavours of brownies. Do you agree with my choices?
Why not treat yourself, or a loved one to some brownies (or other bakery items) from Chummys Bakery. All items are shipped via DPD Next Day Delivery. You can find nutritional, allergen, and ingredients information on their website.
They also offer Brownie Points with their loyalty scheme and they have a refer a friend scheme too. What are you waiting for?
Head to Chummys Bakery today and take a look at their delicious and tasty items.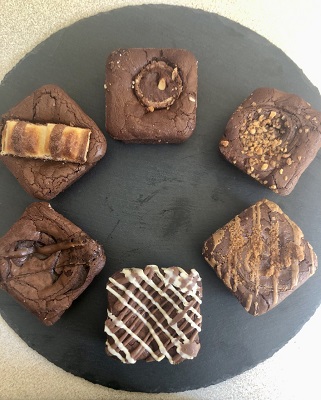 You can also visit them on their social media sites – Pinterest – Facebook – Instagram
---
Disclosure: I received the above items for free for the purpose of this review. All thoughts, photos, and opinions are entirely my own.