Elphie and Dad go on an Epic Adventure by Hagit R. Oron – Book Review
Elphie and Dad go on an Epic Adventure by Hagit R. Oron – Book Review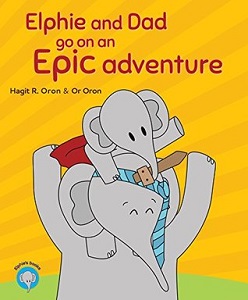 Elphie and Dad go on an Epic Adventure
Author – Hagit R. Oron
Illustrator – Or Oron
Publisher – Orons
Pages – 25
Release Date – 5th February 2016
Format – ebook, paperback, hardcover
Reviewer – Stacey
I received a free copy of this book
Post Contains Affiliate Links

For Elphie, everything is an adventure.
But dad is cautious.
Is dad going to join Elphie on his quest or is the trip to the shop going to be dull and boring?
Join Elphie and dad to find out!
Bonus – free gift for every buyer: an illustrated booklet with an extra-special-epic-adventure chocolate milk recipe for kids and their dads to make together.

Elphie is going on an epic adventure with his dad to the shops get some milk, so that his dad can make him an extra special chocolate milk.
Donning his adventuring outfit, cape and sword, Elphie and his dad set off. Whilst on his adventure, he fights a tiger, slays a dragon and saves a princess.
But when dad is not looking, Elphie ends up in a dangerous situation. Will Elphie manage to get his 'extra special chocolate milk'?
Elphie is just like any young child (although he's an elephant), he doesn't like going to the shops. His dad comes up with a clever way to get him to go, telling him that they are going to have an epic adventure on the way.
Elphie is enjoying his adventure, until his dad takes a phone call. Elphie then becomes bored, and this is when he ends up making a dangerous mistake.
The book, to me, had numerous underlying messages. I felt it was not only about teaching children how to have fun and how easy it is to end up in dangerous situations, it was also aimed at adults, teaching us that even the smallest lack of concentration when you're out with little ones can be dangerous. I also felt that the author was making reference to all those parents that spend too much time on their mobile phones when out with their children.
The book is beautifully illustrated, and with between one to a few lines of text on each page, kids will find it easy to read and engage with the story.
Elphie and Dad go on an Epic Adventure is a lovely book which I'm sure lots of young children will adore.
Book Reviewed by Stacey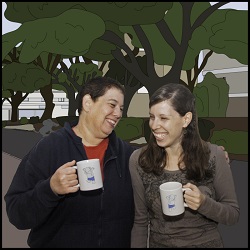 Hagit R & Or Oron are a mother and daughter who love to create, imagine, laugh and have fun together.
Hagit R is an electronics engineer. She writes computer code by day, but when she takes off her suit she lets her imagination run wild. Really, it takes her to such weird places, words aren't able to describe.
Or is a graphic designer by day and an illustrator by night. Imagination is the biggest tool in her toolbox. Really, it's as big as a continent.
Together they are an undefeatable team. Their mission is to bring joy and happiness to kids and parents all around the world. How? One picture book at a time.