Hurricane Vacation by Heather L. Beal – Book Review
Hurricane Vacation by Heather L. Beal – Book Review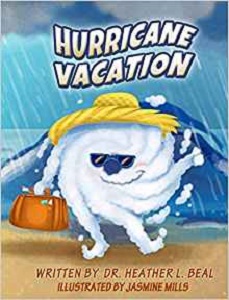 Hurricane Vacation
A Hurricane Preparedness Book
Author – Heather L. Beal
Publisher – Train 4 Safety Press
Pages – 36
Released – 26th October 2019
ISBN-13 – 978-1947690110
Format – ebook, paperback, hardcover
Review by – Ellwyn
Rating – 3 Stars
I received a free copy of this book.
This post contains affiliate links.


Preschoolers Lily and Niko get a crash course on how to handle the unexpected when their vacation changes from sand castles and swimming to lessons in hurricane preparedness. But as the kids prepare to evacuate with their cousin Emma and her family, Niko's favorite stuffy gets lost. Will they find him in time to evacuate safely? Or will this fuzzy family member get left behind?
Reading this book is a great way for parents, childcare providers, and caregivers, to talk to toddlers and preschool children about hurricane preparedness and evacuation in a non-scary way.

I like the message of safety and the weather-related vocabulary presented in Hurricane Vacation. The vocabulary is introduced and explained through the natural flow of the story that makes it easy for young readers to understand. Another bonus feature are the discussion questions, safety activities resources provided at the end of the book. They're a perfect segue for a focused discussion on following directions and emergency preparedness.
The illustrations are colorful, full of wonderful details and compliment the story nicely.
However, the story could do with another round of editing. There are several grammatical mistakes and I found it difficult to follow who the characters, Emma and Lily, were in the beginning.
I also think the author should have touched on the emotions the children were feeling during the experience. An abrupt evacuation would cause anxiety in children. Showing how the characters in the story dealt with their unexpected circumstances would help young readers learn how to cope with their own stressful situations.
Book Reviewer – Ellwyn
---
Purchase online from:
---
About the Author

Heather was raised to give 100% to every endeavor. Since her earliest experiences in Girl Scouts, numerous volunteer events and organizations, she has always sought to make a difference.
After graduating college, she served our country with 23 years of distinguished Naval service. Dedicated to self-improvement, she obtained masters degrees in Asian studies, conflict resolution, cyber security policy and emergency management while on active duty. She is qualified as a Certified Emergency Manager (CEM) with the International Association of Emergency Mangers. She is currently working on a PhD in Emergency Management with a special study focus on childcare recovery.
As a working parent of two, she became aware of just how much of a gap existed in emergency preparedness and recovery training and resources for childcare providers and vowed to use her experiences, education, and more importantly, motivation, to help improve current limitations. In addition to publishing books to help teach children about what to do in case of disaster, she has also created a nonprofit, BLOCKS. BLOCKS' mission is to help prepare childcare for disaster.




---
What did you think of Hurricane Vacation? Share your thoughts in the comment section below!
---
The above links are affiliate links. I receive a very small percentage from each item you purchase via these link, which is at no extra cost to you. If you are thinking about purchasing the book, please think about using one of the links. All money received goes back into the blog and helps to keep it running. Thank you.