Mr Large in Charge by Jill Murphy – Book Review
Mr Large in Charge by Jill Murphy – Book Review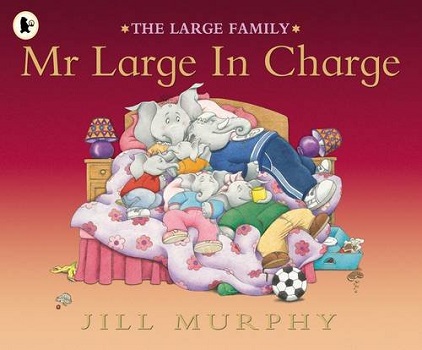 Mr Large in Charge
Author – Jill Murphy
Publisher – Walker Books
Pages – 40
Release Date – 6th November 2016
ISBN-13 – 978-1406300741
Format – paperback, hardcover
Reviewer – Stacey
I received a free copy of this book
Post Contains Affiliate Links

The bestselling Large Family are back in a charming new tale of family life!
Mrs Large isn't feeling well so Mr Large sends her back to bed. "I'll take charge," he says.
So while he and the children get busy hoovering, dusting and tidying, Mrs Large settles down for a nice rest. But Mrs Large's restful day is not as restful as she'd hoped!

Mrs Large wasn't feeling very well, but she had lots of chores that needed doing. Mr Large sent her back to bed, telling her that he was in charge for the day and that he, and the children, would do everything that needed to be done.
How much rest will Mrs Large get? With noisy screaming children, the littlest elephants keep coming into the bedroom, and lets not forget the burnt lunch. Not a lot it would seem.
The Large Family books were first published in the 1980's. Since then they have grown in popularity, and there was even a TV series based on them.
These beloved stories all feature a lovable, normal family (even if they are elephants), comprising of Mr and Mrs Large, and their four children, Lester, Luke, Laura and the baby Lucy.
What makes this series a firm favourite is how relatable to real life that they are. I can especially relate to this particular story, because I'm not allowed to be sick as mayhem would break out in my house.
Jill Murphy didn't just write this wonderful book, she also illustrated it, and they are some beautiful illustrations throughout that certainly capture the heart of the story.
Pre-schoolers, and young children will adore this book. The Large Family books have been read by families for many years, and long may it stay that way.
Book reviewed by Stacey
Purchase Links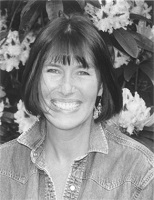 Jill was born and brought up in London and says that she can't remember a time she wasn't a storyteller/illustrator. By the age of six, Jill was stapling her own little illustrated storybooks together – her mum kept them all and she still has them today!
She left school at sixteen, and went on to attend both Chelsea Art School and Croydon Art School. Two years later, she finished her first novel The Worst Witch, about a little witch who doesn't fit in at her new school – a story she says was heavily based on her experiences at the convent. She sent it off to three big London publishers, who all turned it down, and Jill "put it in a drawer and decided to concentrate on other things instead."
After a spell working as a nanny and in a children's home, which she loved, Jill had a phone call from a small publisher interested in The Worst Witch. It was printed when she was twenty-four, sold out almost immediately, and Jill knew for sure she wanted to follow a career as an author/illustrator.
Jill has written and illustrated numerous books since The Worst Witch was published, including three more books about little witch Mildred Hubble. Jill's work has won her numerous prizes and awards.
Author Links