A Walk Through Nature by Libby Walden – Book Review
A Walk Through Nature by Libby Walden – Book Review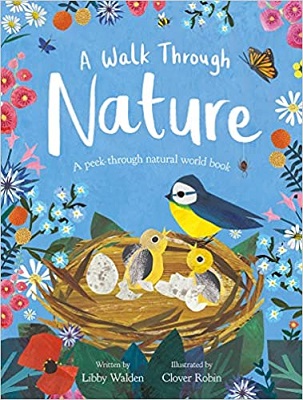 A Walk Through Nature
Author – Libby Walden
Illustrator – Clover Robin
Publisher – Caterpillar Books
Release Date – 3rd February 2022
Pages – 32
ISBN 13 – 978-1838914202
Format – Paperback, Hardcover
Star Rating – 4
I received a free copy of this book.
This post contains affiliate links.

Synopsis
Our natural world transforms
every day and month and year.
But if we don't take time to look,
wonders fade and disappear.
Explore nature through the pages of this beautifully illustrated book. From the tiny seeds from which flowers bloom to the wriggling worms who hide deep underground, there are so many breathtaking spectacles to admire. Rhyming text and fascinating facts about the natural world make this the perfect book for young wildlife enthusiasts, and vibrant illustrations capture the imagination.
This poignant book reminds us to take time to look around us and admire the world we live in. From the creators of Bird House and Bug Hotel, little learners will adore opening the gate-fold pages to reveal the secret wonders of our world.
A Walk Through Nature is a children's non-fiction book featuring thirteen poems all about different items within nature. Each poem is only around three verses long and features a corresponding full-page illustration on the opposite side.
Alongside the poems and the pictures, the right-hand side page opens out again to reveal factual information about the item/animal that is the subject of the poem as well as a few cut-out sections for children to peep through.
The book is large in size, around picture book size and the illustrations are eye-catching and beautiful. The poems are adorable too though I think older children will appreciate them more than picture book readers.
A Walk Through Nature is a charming read and one that nature lovers will enjoy. It would also make for a fabulous book to have in school for class projects on the natural world/environment.
---
Purchase Online:
---
The above links are affiliate links. I receive a very small percentage from each item you purchase via these links, which is at no extra cost to you. If you are thinking about purchasing the book, please think about using one of the links. All money received goes back into the blog and helps to keep it running. Thank you.