The Miraculous Sweetmakers by Natasha Hastings – Book Review
The Miraculous Sweetmakers by Natasha Hastings – Book Review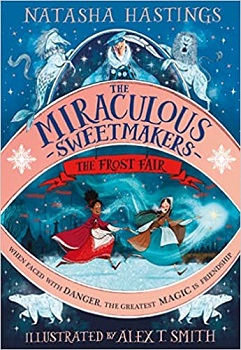 The Miraculous Sweetmakers
The Frost Fair
Author – Natasha Hastings
Illustrator – Alex T. Smith
Publisher – HarperCollinsChildren'sBooks
Release Date – 27th October 2022
Pages – 448
ISBN 13 – 978-0008496050
Format – ebook, paperback, hardcover, audio
Star Rating – 5
I received a free copy of this book.
This post contains affiliate links.

Synopsis
An amazing and captivating, curl-up-on-the-sofa debut about a magical frost fair and the lasting power of friendship.
It's a cold winter during the Great Frost of 1683. Thomasina and Anne are the best of friends, one running her father's sweet shop and the other the apprentice at the family apothecary – together they sell their goods on the frozen River Thames. When a family tragedy turns Thomasina's world upside down, she is drawn to a mysterious conjuror and the enchanted frost fair.
But soon the world of Father Winter threatens to claim everything she holds dear. Will they be able to solve the magical mysteries that surround them . . . ?
The Miraculous Sweetmakers is the perfect winter read for middle-graders to young YA readers. The plot is filled with friendship, family, and an air of mystery when our main character Thomasina is invited to the frost fair.
The book opens on a sad note with Thomasina's twin brother dying. We then move forward a few years and see how life has dramatically changed for the young girl after his death, with her mother unable to speak or leave her bed and her father hardly saying more than a grunt, plus now Thomasina is needed to help out with the family's sweetshop.
Frustrated and saddened by the changes, Thomasina meets a strange man, Inigo, when the river Thames freezes over. He tells her that he can bring her brother back from the dead but she must do something for him over three nights. This is when she attends the other frost fair after midnight and sees all the mystical people and creatures that use the frozen river as their base. But is Inigo a friend or foe?
What I loved about The Miraculous Sweetmaker is how although it is set in 1683 how relatable to today this story is. This is a tale of a young girl who has gone through such sadness in her life and is willing to do anything to make things better again. She is lonely and feels like she doesn't have anyone until she meets Anne, the apothecary apprentice who has just moved in with her uncle.
This is a story that is surrounded by magic and is so atmospheric with the cold and frozen Thames coming across perfectly making you shiver and requiring a nice fluffy blanket and a hot beverage whilst reading.
The characters are beautifully represented and the themes such as death, deception, mental illness, and asthma are handled with care and understanding. It is a touching story and will pull at your heartstrings. This is a book you will be invested in and one you won't want to put down.
---
Purchase Online:
Natasha Hastings

Natasha Hastings was selected to join The London Library's Emerging Writers Programme in 2019. Currently working as a fundraiser, she started developing The Frost Fair while studying History at Cambridge University, where she focused on gender and mental illness.
She became determined, while exploring these topics, to have the lives of working women form the heartbeat of The Frost Fair.
Author Links:
---
The above links are affiliate links. I receive a very small percentage from each item you purchase via these links, which is at no extra cost to you. If you are thinking about purchasing the book, please think about using one of the links. All money received goes back into the blog and helps to keep it running. Thank you.